Creating an Olympic Splash
'Get in the Swim' Learn to Swim programme officially launched!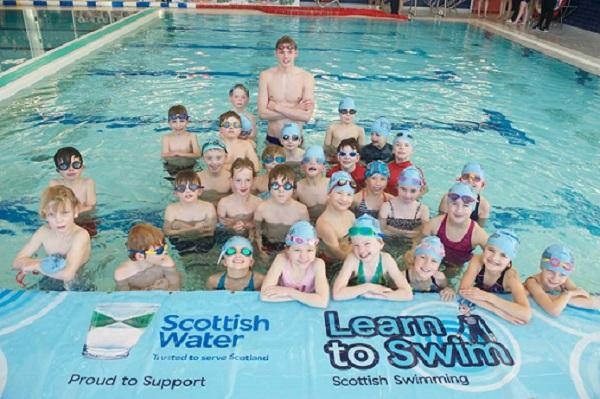 Double Olympic Silver Medallist and Learn to Swim ambassador Duncan Scott welcomed local children to North Berwick Sports Centre this afternoon to officially launch enjoyleisure's new Learn to Swim programme, 'Get in the Swim'.

The new scheme adopts Scottish Swimming's National Learn to Swim Framework, in partnership with Scottish Water, which highlights the importance of swimming from as early an age as possible - as the first seven years are the most influential in establishing good exercise habits and setting foundations for learning throughout life.

The enjoyleisure Learn to Swim programme, which starts with its Early Years Programme for infants aged 4 months old, is designed to make learning to swim fun while enabling children to progress through the swimmer pathway all the way up to club / competitive levels and a lifelong enjoyment of swimming.

As well as adopting the National Framework, enjoyleisure's 'Get in the Swim' lesson programme introduces a new rolling 48 week schedule of lessons, to allow for continuous development and smoother transitions through the framework. Additionally each participant enrolled in the scheme benefits from free casual swimming throughout the year, to encourage further development and enjoyment of the sport.

To mark the official launch, enjoyleisure's lesson participants, pupils from Law Primary and representatives from North Berwick swimming clubs were invited to join double Olympic Silver Medallist Duncan in a specially organised swimming session. As well as assisting the enjoyleisure teachers with their lessons, Duncan participated in a Q&A, where the children quizzed him on his love for swimming and the gruelling training schedule, which enabled him to become World Champion and double Olympic silver medallist.

In recognition of the swimming development pathway in East Lothian, representatives from East Lothian's elite Swim Team were also invited to attend a dedicated coached session with Duncan, so they too could learn from his expertise and look-on as he demonstrated his award-winning talents.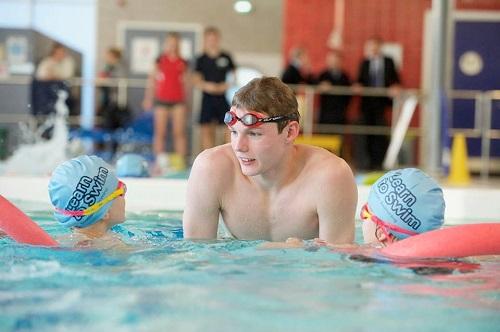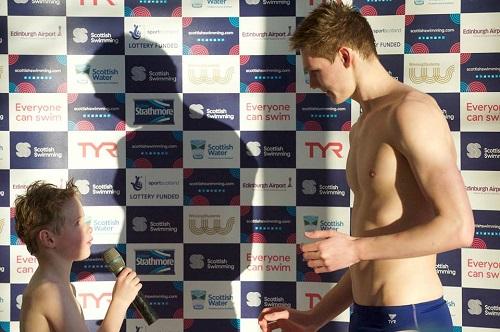 Bill Axon, General Manager of enjoyleisure comments:
"We're thrilled to have been able to welcome Duncan to East Lothian to launch our new 'Get in the Swim' programme, as part of Scottish Swimming's National Learn to Swim programme in partnership with Scottish Water and give our local children the opportunity to learn from such a successful athlete. Swimming is a fantastic sport to enjoy both recreationally and competitively, however with East Lothian's expansive coastline it is also a key life skill for county residents. We're therefore delighted to be working with Scottish Swimming to develop and enhance our swimming lesson programme. Over the coming months we aim to expand our lesson schedule further to be able to offer more local children the opportunity to enjoy the benefits of the sport."
Forbes Dunlop, Chief Executive Officer of Scottish Swimming comments,
"We are delighted to support this launch by enjoyleisure and see the success of our National Learn to Swim framework in partnership with Scottish Water in the local area. The partnership with Scottish Water will help to roll the Learn to Swim programme out across Scotland over the next three years, enabling children of all ages, abilities and backgrounds to learn to swim - an essential life skill."

Brian Lironi, Director of Corporate Affairs at Scottish Water comments,
"We're proud and excited to be the official partner of the Learn to Swim programme. It's a worthy objective to encourage 100,000 children and young people to swim and it's great to see the sheer joy and enthusiasm of so many of the youngsters who are taking part."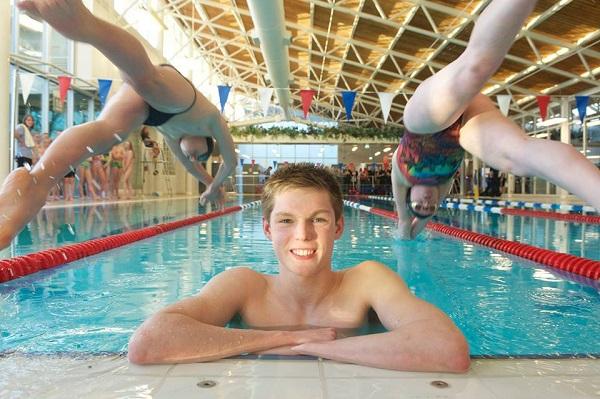 To view Scottish Water's video of the event click here. Scottish Water are the official sponsor of Scottish Swimming's Learn to Swim programme
To view Scottish Swimming's video click here
For more information on enjoyleisure's learn to swim programme click here
For more infomation on club swimming or general enquiries contact swimming@enjoyleisure.com