Gymnasts selected to represent GB at Teamgym European Championships
Seven members from Saltire have been selected following selection competition and process
Six gymnasts from local club Saltire Team Gymnastics have been selected to compete as part of Team GB at the upcoming European Championships in Portugal in October. The gymnasts were selected following the selection competition in Bracknell, England on 21st April where they performed four routines on three different apparatus. Gymnasts had to perform 3 tumble passes, 3 trampette and vault passes, and a choreographed piece of dance as well as perform a series of floor skills in front of panels of judges.
Over the last 12 months gymnasts have been attending a series of training clinics across the UK in preparation for the selection competition. Many of these have been south of the border in Newcastle, Crewe and Scarborough however for the first time Scotland has also hosted their own clinics at Meadowmill Sports Centre with the support of enjoyleisure. This has significantly lowered the cost for gymnasts and clubs across Scotland with the reduction in travel.
The Scottish gymnasts selected:
Senior Men
Adam Souter – Saltire
Dylan Campbell – Saltire
Senior Women
Sara Griffin (Travelling reserve) – Saltire
Senior Mixed
Hamish Colgan (Travelling reserve) – Saltire
Junior Women
Carly McFadden – Saltire
Junior Mixed
Fraser McLeod – Saltire
Jordan Dewar – Forth Valley
Jack Gibson (Travelling reserve) – Irvine Bay
A full list of selected gymnasts can be found here.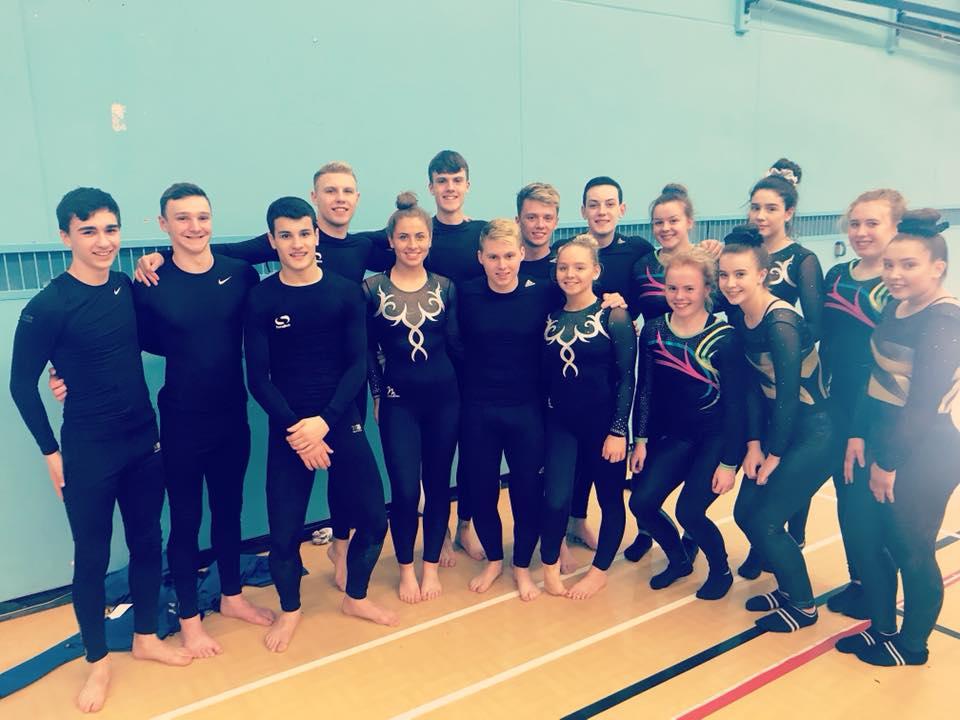 16 Scottish gymnasts attended the selection competition
This is another step forward for Teamgym in Scotland as 3 clubs now have representation in the GB team in comparison to 2 clubs from the last Championships in 2016. The outlook only continues to grow for Scottish gymnasts as Scottish Gymnastics have now launched the Teamgym performance pathway which will look to support gymnasts in preparation for GB selection in future years. The pathway will be lead by Chris Short, GB team coach for Men's unit at the 2016 Championships and assisted by Tracey Brown, High Performance Coach and the Head Coach at Saltire.
Congratulations must also go to Tracey who has been selected as a team coach for the Men's unit for the Championships in October this year. She will travel to attend the series of training camps for the selected gymnasts across the country in the coming months to work in preparation for the Championships with the other gymnasts and coaches from around the country. Tracey is the first Scottish coach to be selected as part of the nine strong coaching team, another huge achievement for the discipline.
Congratulations and good luck to all!