Eco-Kidz (Yellowcraig) 2020.
COVID-19 update. Are you a budding Ray Mears or Bear Grylls? Join Instinctively Wild this summer for a week to remember.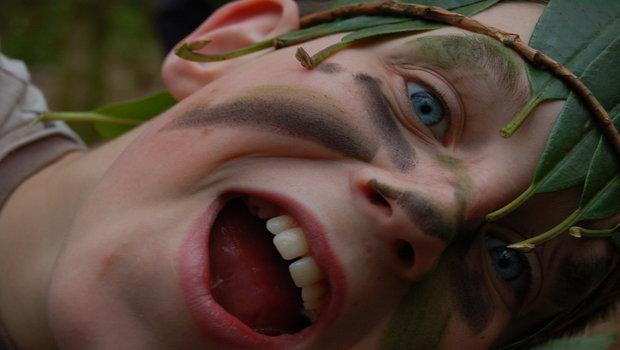 Eco-Kidz Summer activity week 2020.
"It was the best week of my life. Such fun and I made new friends. It was awesome!" Samantha, aged 9.
COVID-19 update:
Thanks for seeing what we have on offer.
Regards Eco-Kidz 2020. Currently as you know we are in Phase 2, until we go into Phase 3 it will not be possible to run the summer camp, because it would be too many households all meeting together. Hopefully Phase 2 restrictions will be reviewed and relaxed by the 9th July. However if multiple households are still not allowed to meet up, then we will not be able to run Eco-Kidz. It totally depends on what the Scot Government say in the next month or so and what East Lothian Council's position would be also, as they would have to manage social distancing on site and they may well have to put in restrictions on groups using the site, plus the toilets need to be open. The bottom line is, we just don't know what our position is/will be.
If we were able to run Eco-Kidz we would reduce numbers also (14 mox) and certain activities we would not be able to do because of social distancing, plus everything will have to be cleaned between each day. We would also have hand washing stations on site.
If we were to run a week, and we really hope that is the case, because - we love being in nature and teaching your children loads of cool outdoor/nature/bushcraft related skills! It probably would be the 3rd - 5th August at Yellowcraigs. Same cost as last year - £30 per child per day or £110 for the week.
Because of the changing nature of the COVID-19 Scot Gov guidelines we are not wanting to take a financial payment just now, more of a provisional booking. Please just contact Pete (07807032491/pcarthy@instinctivelywild.co.uk) with an expression of interest, with the dates amount of places. We can then set up a virual booking schedule for the week.
As an alternative for families with people they still need to shield, or for other reasons, we were also thinking of running a virtual Family John Muir Award - (Pete C) has been doing this at Stow Primary, and its been quite successful. We would send out instruction emails every other day and collate photos of families work on an ebook - see https://www.johnmuiraward.org/feed?group_tag=StowPrimarySchool-FJMA Cost £50 per family and we would run this from the 27th July - 7th August. You would get a certificate when complete - it is a family effort. Of course you can do this as well as the Eco-Kidz. If your interested in this option get in touch with Pete and he'll give you further info.
BOOKINGS UPDATE 29th JUNE 2020:
PROVISIONAL ONLY
3rd August: 8 places left
4th August: 8 places left
5th August: 9 places left
6th August: 9 places left
Still reading? - Great! Can you help us get Lottery funding for a new website and marketing? Could you spare us 20 mins? 15mins to look at our site and 5 mins to complete a questionaire. This will massively help us. Many thanks in advance.
Our website: www.instinctivelywild.co.uk Survey: https://www.surveymonkey.co.uk/r/XWT63CZ
Look forward to hearing from you.
So tell me more about Instinctively Wild…
We're a not-for-profit social enterprise (a community interest company). We are independent from East Lothian Council and it is with their kind permission that we continue to use the fabulous Yellowcraig site.
When it's not the summer holidays, we are busy running programmes across Edinburgh, the Borders and Dumfries and Galloway. We deliver outdoor programmes for: those accessing NHS mental health services; people who have dementia; families who benefit from getting outdoors; schools – in fact, people from all ages and all backgrounds.
Find out more!
You can visit our website: www.instinctivelywild.co.uk. Follow us on Twitter @InstinctivelyWi, or come and see us at our Facebook page. We will endeavour to post booking updates, and LothianLoop also post updates for us.
Community Interest Company No. 514321
Unfortunately we are not able to offer discounts for multiple family members or those on low incomes. As we are classed as an 'activity provider' rather than a 'care provider', we unfortunately cannot accept childcare vouchers.
Please see below, for a regular bookings update. We also Tweet via LothianLoop.
Where?
Yellowcraigs woodland and beach, East Lothian
When?

3rd, 4th, 5th, 6th August: Eco-Kidz (ages 8-14) Yellowcraigs.

Each day runs from 9am to 5pm (non-residential)
Eco-Kidz
Whether you have been to us on previous summer weeks or are coming along for the first time, Eco-Kidz (for those aged 8 to 14) is a fun way to learn about the environment through hands-on outdoor learning, bushcraft and environmental education. Sessions are delivered by our fully trained, highly experienced Forest School and bushcraft leaders.
Cost
The cost is £30 per attendee per day; or £110 for the four days. We provide hot and cold drinks (and have waterproofs for those who need them).
Booking
To book, or simply to find out more, please contact Pete Carthy, programme leader, on 07807 032491 or by email pcarthy@instinctivelywild.co.uk.
Payment can be made via BACS. You'll be sent our bank details when you make the intial enquiry. Bookings are only provisional until payment is made. Once payment has been made we will confirm your booking.
We will send you a parental consent form and an additional information booklet, which details everything you need to know about the days, such as: terms and conditions of bookings, what to bring, kit lists, meeting point.