Dunbar Girls Empowered by Self Defence Class
Robertsons Mixed Martial Arts deliver brand new initiative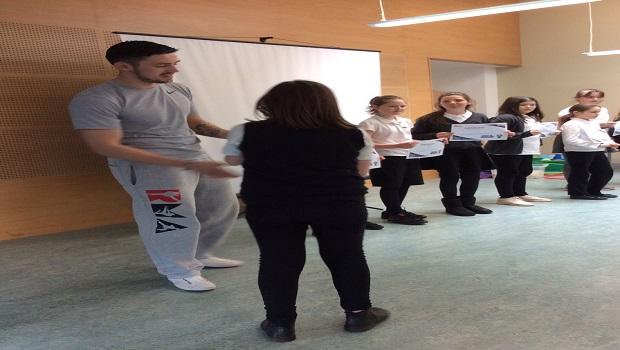 Active Schools has worked in partnership with Robertsons Mixed Martial to deliver a self-defence class to 19 P7 Girls from Dunbar Primary. With this programme as well we took points from the Curriculum for Excellence (CfE) and adapt the programme to fit in line with the Health and Wellbeing framework.
The main points worked with from the CfE were
I am experiencing enjoyment and achievement on a daily basis by taking part in different kinds of energetic physical activities.
I am developing my understanding of the human body and can use this knowledge to maintain and improve my health and wellbeing
I am learning to assess and manage risk to protect myself and others to reduce the potential harm when possible.
I value the opportunities I am given to make friends and be part of a group in a range of situations.
After the 4 weeks girls were presented with a certificate of their attendance to the self-defence class at Dunbar Primary P7 Assembly on the last day of term. Pictures from presentation above.
Instructor Brad Robertson "the girls came the first week and didn't speak or interact a lot but as the weeks went on and their confidence grew which enabled their skills and understanding of what they were doing to increase. Hopefully the course has enabled the girls to gain the confidence to go try new sports and challenges outside of school but also made new friendship from working with new people on the course. The skills they have learned should benefit them in the years to come."
Active Schools would like to Thank Brad and Dunbar Primary for running the programme. The programme has proven to be a huge success and we are now working on the next group we will be working with.