MID AND EAST LOTHIAN SECONDARY SCHOOLS BADMINTON CHAMPIONSHIPS
2019 event another huge success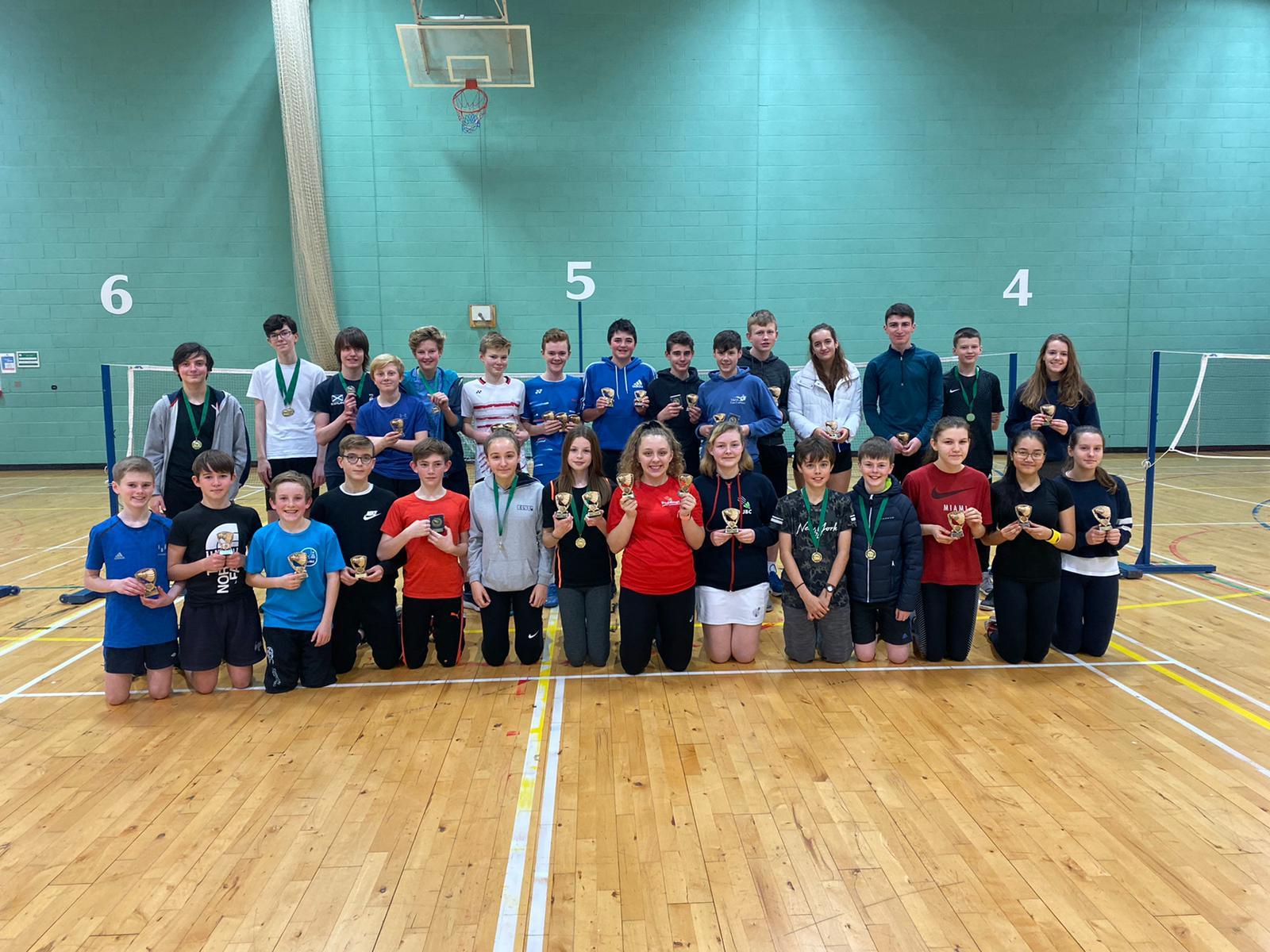 An entry of over 80 pupils travelled from all over the county to Meadowmill Sports Centre to compete in the Mid and East Lothian Secondary Schools Badminton Championships which took place on Tuesday 26th November.
East Lothian Schools dominated the tournament with Finlay Jack from North Berwick High winning a treble in boys singles, doubles with Harry Bent and Lois Turnbull in mixed doubles.
There were also double titles in the U14 age group for North Berwick High pupil Callum Jack in boys' singles and level doubles with partner Jacob Fletcher and Dunbar Grammar pupil Kate Thomson who won girls singles and mixed doubles with Luke Krievs.
Dunbar Grammar pupil Euan Campbell who represented Scotland in the U17 European earlier this season lifted the U19 boys' singles title the only event played at this age group.
Following some excellent badminton throughout the day selection will now take place for pupils to represent Mid & East Lothian at the Scottish Schools National Championships, in March 2020 at Bells Sport Centre, Perth.
Final results – U14
Girls Singles Winner – Katie Thomson (Dunbar G)
Runner up – Anya Boardman (Knox Academy)
'B' Final Winner – Emma Lechie (Knox A)
Boys Singles – Winner – Callum Jack (N Berwick H)
Runner up – Andrew Irvine (Dunbar G)
Bronze medals (semi-finalists) – Jasiu Zakrzewski (Dunbar G) & Findlay Wyatt (Dunbar G)
'B' Final Winner – Cameron Furness (Preston Lodge)
Runner up – Oliver Marshall (Dunbar G)
Girls Doubles – Winners – Romilly McBain & Anya Boardman (Knox A)
'B' Final Winner – Kate Thomson & Catriona Ford (Dunbar G)
Boys Doubles – Winners – Callum Jack & Jacob Fletcher (N Berwick H)
Runners up – Finlay Goldie & Rui Paxton (Dunbar G)
'B' Final Winners – Tom Kirkness & Corin Woodhead (Knox A)
Mixed Doubles – Winners – Luke Krievs & Kate Thomson (Dunbar G)
Final results – U16
Girls Singles – Winner – Isabella Davis (N Berwick H)
Runner up – Skye Laidlaw (Preston Lodge)
Boys Singles Winner – Finlay Jack (N Berwick H)
Runner up – Harry Bent (N Berwick H)
Bronze medals (semi-finalists) – Ben Riddle (N Berwick H) & Lewis Higgs (N Berwick H)
'B' Final Winner – Matthew MacFarlane (Ross H)
Runner up – Ruaraidh Irvine (Knox A)
Girls Doubles – Winners – Jorja Wilson & Chloe Watt (Preston Lodge)
Boys Doubles Winners – Harry Bent & Finlay Jack (N Berwick H)
Runners up – Ben Riddle & Lewis Higgs (N Berwick H)
'B' Final Winners – Mathew MacFarlane & Theo Ballantine (Ross H)
Mixed Doubles Winners – Finlay Jack & Lois Turnbull (N Berwick H)
Final results – U19
Boys Singles Winner – Euan Campbell (Dunbar G)
Runner up – Niall Holman (Knox A)