PLHS U16s Scottish Cup Finalists
Preston Lodge High School football team have reached the final of the Scottish Cup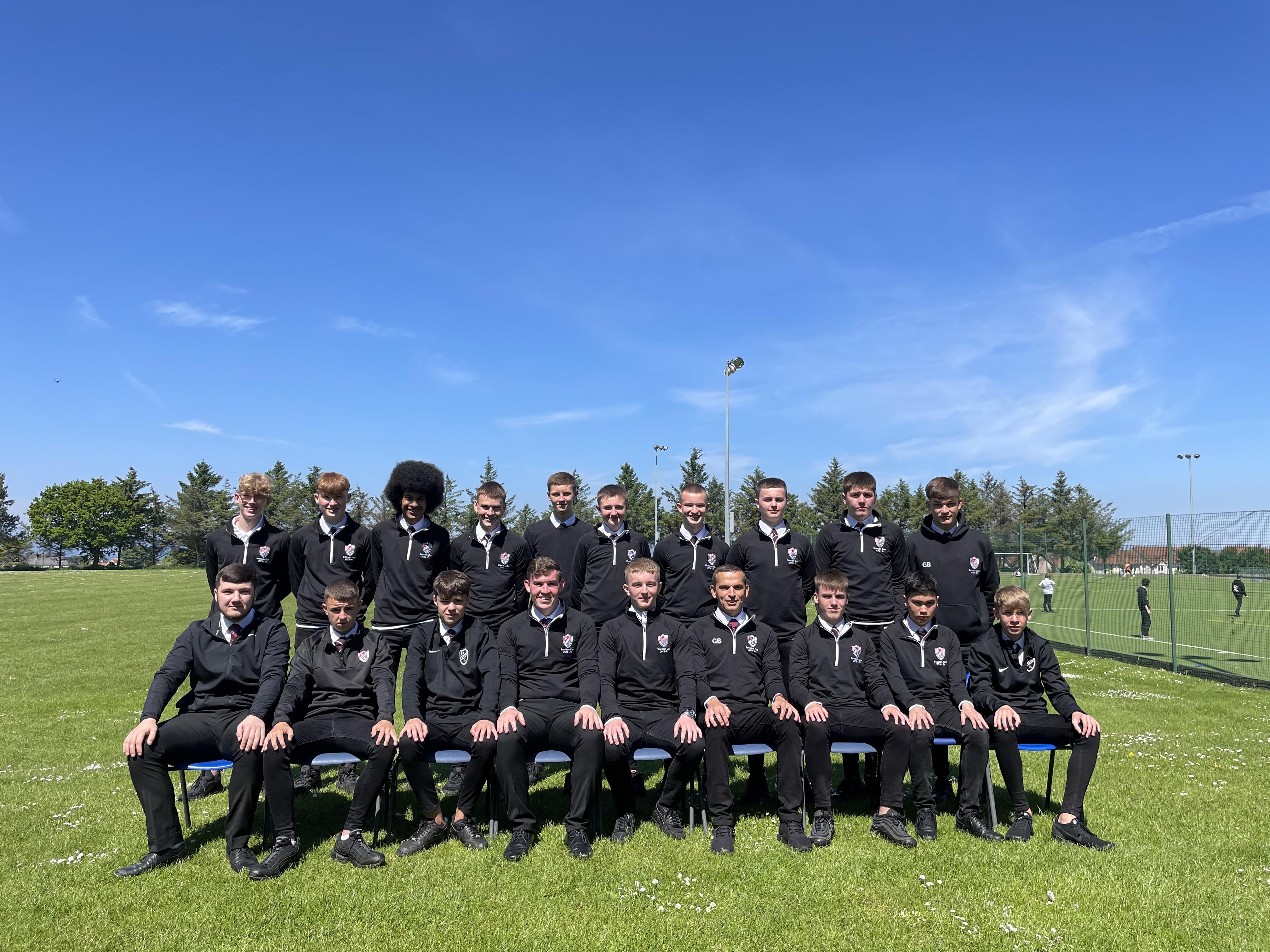 Preston Lodge U16s travelled to Broxburn to play the semi final of the Scottish Cup after a 15 month wait. With the competition starting in 2019 the team had progressed through a tricky path with only one home match. The results were:
Round 2 Stewart Melville 0-2 Preston Lodge
Round 3 Currie high school 1-5 Preston Lodge
Round 4 Preston Lodge 6-1 Levenmouth
Round 5 Broughton (SFA Performance School) 1-4 Preston Lodge
Quarter Final Duncanrig 1-2 Preston Lodge
Semi Final Preston Lodge 2-1
With four away games and one home game it has been a tricky path to the final. The boys have applied themselves well. This has been four years in the making with a league and cup double at U13s and U14s the next step was to reach a Scottish cup final. This is the first major final the school has reached and it's a great achievement. Whilst we have waited 15 months between the quarter final and semi final the boys trained whilst we could and were focussed on the chance to play. Thank you to the SSFA who organised the matches for all schools to play and give the boys and girls a chance to play in such an important match.
We are proud of the boys achievement and we are fully behind them as a school and community for the final. A massive thank you must go to the families of the players who have travelled everywhere to support the team so much so they watched the game behind a fence for the semi final. In addition to this the football coaches Andrew Swinney who coached the team in S1 and Sam Taylor who has coached the team from S1 and now coaches alongside Active Schools Coordinator Graeme Bennion. The team have also seen Ethan Laidlaw go on to sign a professional contract with Hibernian FC which we are all very proud of. The team are a joy to coach and hopefully we can make the school and community proud in the final.
All of this has been possible due to the School of Football programme we have been running over the past six year at Preston Lodge. In doing this we have seen success in and out of the classroom with pupils gaining qualifications in class through football and being a success on the pitch through our Active Schools football programme. Our current coaches throughout this time, Kim Cunningham (PE Teacher), Daniel Mair, Alex Williamson and Sam Taylor (all ex-pupils) have created a fun environment for pupils to come and enjoy football and they have reaped the benefits of all this time in curricular and extra curricular. Also a thank you to John Hall who has coached and also took teams wherever they needed to go.
Team Photo:
Top left to right- josh laidlaw, Calum Aitken, Daniel Filigonio, Ben Taylor, Ethan Laidlaw, Ross Buckley, Finlay Yule, Charlie Russell, Luke Reid, Ben McCabe.
Bottom left to right- Alex Williamson (coach) Robbie Peffers, Kieran Stewart, Sam Taylor (coach) Ben McCabe (captain) Graeme Bennion (Coach/ASC) Nathan Stewart, Stefan Sweeney, Harris Reynolds