2020 FirstClubGolf Teacher Training
Helping to ensure all children in East Lothian have the opportunity to experience golf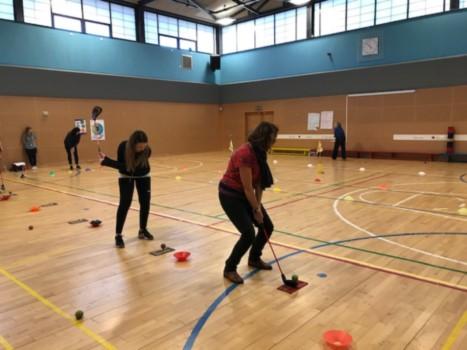 Another eight Primary 5 teachers attended firstclubgolf teacher training on Fri 31st January 2020 at Preston Tower Primary School. They will join the ranks of teachers and PE Specialists throughout East Lothian that are already trained and delivering sessions in all 33 of our primary schools.
The 2 hour workshop equips teachers to deliver a basic 6 week introductory golf experience called FirstClubGolf as part of P5 PE curriculum. Developed by Scottish Golf, ClubGolf is Scotland's national junior golf programme, and aims to create opportunities for children to learn and play golf in a safe, affordable and fun environment.
All East Lothian Primary Schools have a SNAG kit bag which is modified golf equipment that can be used to deliver golf practice sessions in schools with P5's. All classes that deliver the practice sessions then receive a visit from East Lothian Council's Development Officer when they will take part in "The Game" session of programme. The Game allows them to put the skills together they've been practicing and put them together to play a round of golf.
All pupils will then recieve a letter inviting them to continue to learn to play "real" golf by progressing on to structured golf coaching at local clubs across East Lothian. All abilities are welcome at these afterschool session and equipment is provided byt the club so children can just come along and give golf a go! To register your childs interest in golf coaching click here