2017 Junior Golf Fixture List
Now available to download!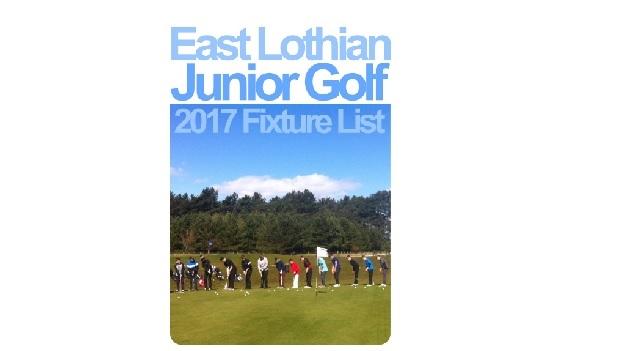 Click here to download the New 2017 Junior Golf Fixture List
Includes lots of playing opportunities for junior golfers in East Lothian. There are lots of competitions to choose from for beginners to single figured handicappers. To improve your golf skills it is really important to play in as many different competitions and as often as you can. East Lothian has a wide variety of courses from links (next to the sea) to parkland (in the countryside) long (par 73) to short (par 66)! These competitions offer juniors a very affordable opportunity to gain experience of all of these variations and will help them to become well rounded golfers.
Junior Fun Competitions Open to players with or without handicaps generally aged 9 and above. Younger children with some playing or coaching experience will be considered. We try to have an adult with each group to help with rules and scoring so parents are asked to make themselves available. Competitions cost £3 each which is payable on the day. Competitions are played in 2 divisions: Non Handicap (P5 – P7) who play rookie rules (1 shot in the bunker, 10 max per hole, forward tees) or Handicap (players in S1+ that don't have a handicap are awarded a handicap)
Stephen Gallacher Foundation Competitions Flag and Strokeplay Competitions which are open to with or without handicaps. Event winners will qualify for regional finals. Competitions cost £3 which is payable when booking online: http://www.sgfoundation.co.uk/or T: 0131 226 1230 For competitions outwith East Lothian and U18's visit the the SG Foundation website.
The East Lothian Junior Golf Order of Merit Players can clock up points at both the Junior Fun Competitions and the Stephen Gallagher Foundation Competitions played in East Lothian. At the end of the season the top 6 players in each division qualify for an end of season prize winners coaching clinic. Points allocated at each of the competitions are as follows: 1st: 100 pts 2nd: 75 pts 3rd: 50 pts 4th: 25pts, 5th: 10 pts, Participation: 5pts
Junior Opens players with handicaps only. The junior opens are run by the host golf club and count towards handicap so are an ideal opportunity for juniors to work on getting their handicaps down. To book in contact the host club directly or get more details online at http://eastlothianjuniorgolf.org.uk/