2017/18 Secondary School Golf
Playing opportunities for East Lothian High School Pupils with official handicaps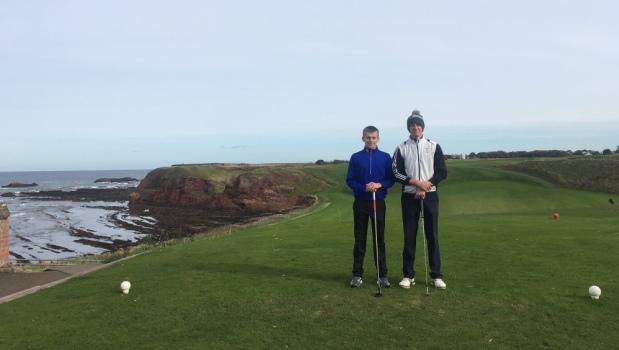 Click here to view the most up to date Order of Merit results
East Lothian Secondary Schools Order of Merit Events
Fri 22nd Sept 2017 @ Haddington GC, Times: 1330 – 1430
Fri 6th Oct 2017 @ Winterfield GC, Times: 1328 – 1440
Fri 16th March 2018 @ Criaigielaw GC, Times: 1330 – 1430
Fri 23rd March 2018 @ Longniddry GC, Times: 1330 – 1430
Secondary Order of Merit Format
Players must have an official Congu handicap
Format: Strokeplay Stableford
Closing date for entries: Friday prior to competition date
Each event will count towards handicap so is an opportunity for players to get an official card in
There will be 3 competition divisions – Scratch, Handicap and Team (3 net scores per school count to school team total)
Points will be awarded at each competition towards the Secondary School Order or Merit (1st: 100, 2nd: 75, 3rd: 50, 4th: 25, 5th: 10, Attendance: 5)
Entry: Free
East Lothian Scottish Schools Qualifier for Paul Lawrie Scottish Schools Championship
Date: Fri 27th April 2018 @ Gullane GC
Times: 1330 – 1530
Format: Scratch strokeplay
Entry conditions: The qualifying event is open to all players with CONGU handicaps as it counts towards the East Lothian Secondary School Order of Merit.
The 2 lowest scratch scores on the day will qualify to represent East Lothian in the Scottish Schools.
To be eligible to enter the Scottish Schools players must be on the School Roll at 31st May 2018 and in possession of a CONGU Handicap, Boys Category 1 Handicap (5.4) and Girls Handicap of 20 or under.
Paul Lawrie Scottish Schools Championship : Mon 11th June 2018 @ Murrayshall, Perth
Additional places are also allocated by the organisers by ballot if players wish to enter directly.
Details will be available on Scottish Golf nearer the time.
To enter any of the above events players should email Kate Green (Golf Development Officer): kgreen@eastlothian.gov.uk or contact their School Sports Coordinator / School Golf Organiser
Scottish Open and Seniors Pro Am
We have been lucky enough to be able to enter a team into each of these events in the past and we hope to offer something similar in 2018. This is likely to be the winners of the Scratch and Handicap divisions and possibly one other wild card place which will be played for at our final event at the Scottish Open host club, Gullane, on the 27th April 2018.
East Lothian v Edinburgh Secondary Schools Ryder Cup
Following our Order of Merit events the top 8 players in the scratch and top 8 players in the handicap order of merits qualify to represent East Lothian in this event. Edinburgh unfortunately couldn't field a team in 2017 due to staffing but we are hopeful they will in 2018.
PGA Level 1 Coaching License
Any interested players aged 16 or over can attend a PGA Level 1 training weekend so as to gain their Level 1 Coaching license.
Full funding is available through ClubGolf East Lothian in return for a commitment to 20 hours of voluntary coaching at an East Lothian golf club.
Please find further details online and circulate this to any players you think might be interested.
A number of Senior Pupils gained their qualification this season and it would be good to have more on board as role models for the younger players.
Click here for more information about Golf Coach Education