2019 LP Run
In Aid of Streetfit Scotland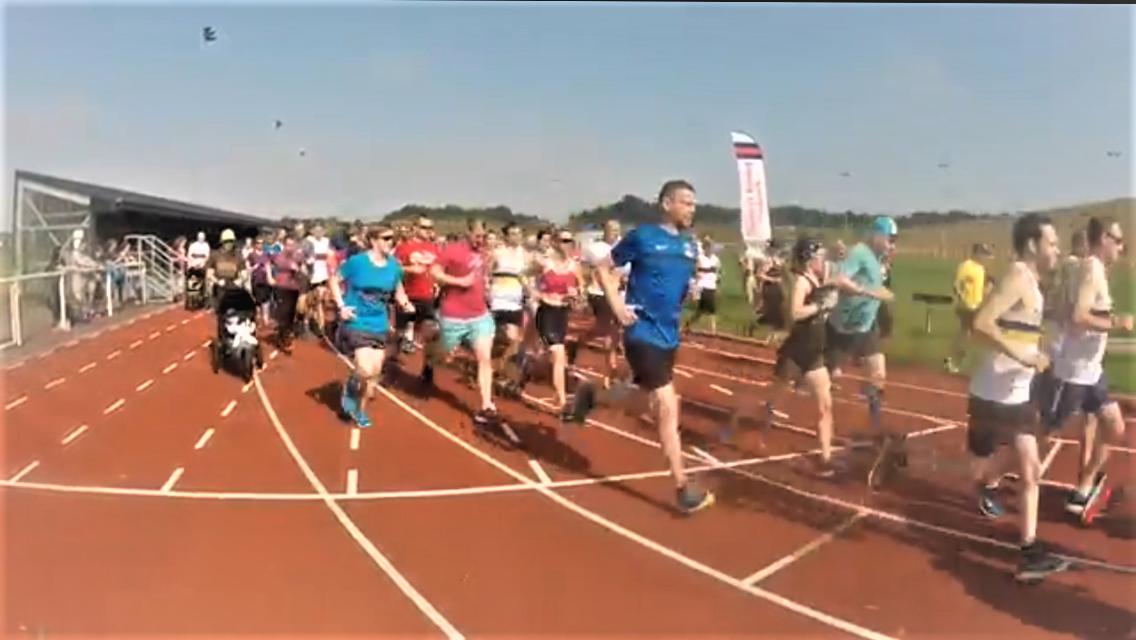 £1,785.50 was raised for Streetfit Scotland
Edinburgh Running Network (ERN) was really blown away by the generosity of Meadowmill, Enjoy Leisure and East Lothain Council in supporting this event, especially the charity Streetfit Scotland. There were 5 runners from the charity on the day, and 96 runners in all.
After a 12 month hiatus due to Meadowbank Stadium closing, ERN were delighted to announce a new venue for the 2019 ERN LP Run – Meadowmill Sports Centre in Tranent.
The run is based on the oldest race in Houston, Texas now in its 52nd year. Here is a short explanation. On the crack of the starting pistol you run as many revolutions per minute (laps) on the track as you can during 33 and 1/3 minutes all the while listening to top tunes. Entrants are responsible for counting their own laps but bands are given out for each lap completed with an independent verification of the front runners, and prizes for the top male and female finishers, as well as spot prizes.
When you entered you could choose a tune you'd like to hear as you were running. The theme for this year's music was Europe – yes!, putting the fun back into Brexit, whether you wanted a break-up or a love-in, or if you were just thinking "'Mamma Mia' here we go again!", you got to pick a tune that had some connection to Europe, and they, of course, ended with the 'Final Countdown'.
There was also a 7" kids race (one lap of the track), so the whole family could get involved and, as their club likes to say "ERN your cake"!
After the race was done and dusted, arguably the best bit – tea, coffee and cake! Edinburgh Running Network members love their cake and have a lot of great bakes, so there were prizes for the best cakes.
This year the event was again in aid of Streetfit Scotland, a charity providing a health, fitness and well- being programme for the homeless and socially disadvantaged to reduce social isolation and improve mental and physical health (charity no SCO 046638 http://www.streetfitscotland,org/).
ERN is one of the friendliest running clubs in Scotland and we welcome runners of all abilities. Why not go along and find out just how much they love to run and eat cake. (See Edinburgh Running Network's facebook page for more details)