4J Studios North Berwick Law Race
Another Great Success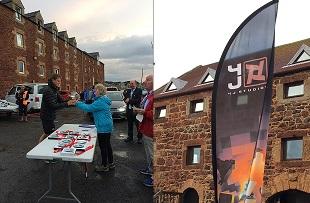 Above photograph: Winner Tom Martyn being presented with the Robin Morris Memorial Trophy by Roz Morris.
Wednesday 7th August saw another great race from the Harbour, up North Berwick Law and back again. With 228 finishers this was a super turn out, given the wet weather conditions and thunder and lightning we saw during the day prior to the race starting.
Many thanks go to our sponsors, 4J Studios, who supported the event this year and supplied the medals and trophies which were presented at the end of the race.
This year's overall winner was Tom Martyn from Hunters Bog Trotters, in a time of 20.23 minutes with First Lady being Catriona Morrison of Highland Hill Runners in a time of 23.07 minutes. Tom wins the Robin Morris Memorial Trophy which was presented by Roz Morris, the wife of the late Robin who won this event 7 times in his running career. Trophies were also presented to Alex Lutchford, 2nd place (20.55), 3rd place Mark Lunt (21.53). 1st Male Vet Tom Brennan (22.09); 1st Lady Vet Sarah McKochnie (24.13); 1st Under 15 Boy Jake O'Donnell and 1st U15 girl Bridget Harley; 1st Local to cross the line was Nicholas Trowell (24.18) in 22nd place overall.
Trophies were presented on the evening, by Stuart Ross of 4J Studios and Councillor Jim Goodfellow and medals presented to the junior runners by representatives of North Berwick Community Council – many thanks to all of them for giving their time to support the event. We would also like to thank David Redpath of Sky Tech Ltd Uk who is putting together a video and some photographs taken on the night – a link to these will follow – again this was carried out free of charge. North Berwick Fry once again supplied free ice cream for participants of the race too.
Full results can be found on the following link:north_berwick_law_race_2019(2)_copy1.xls
Thanks to Edinburgh AC for the supply of Marshals and Officials who worked tirelessly on the night to keep everyone safe and to ensure results were processed with haste. We were also delighted with the support from 2 of our best Police Constables who managed the road crossings with due care and attention.
Applications are invited for sponsorship for the 2020 Race, if interested, please contact Lynda Gilroy on lgilroy1@enjoyleisure.com
Well done to all who completed the challenge!