Active East Lothian's March Volunteer of the Month
Active East Lothian's March Volunteer of the Month Award was presented to Gordon Allen and Stuart Donnelly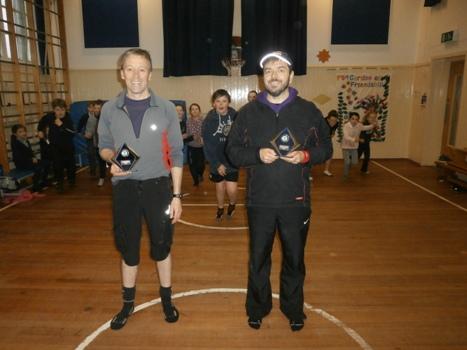 Active East Lothian's Volunteer of the Month Award for March 2016 has been awarded to Gordon Allen and Stuart Donnelly. Gordon and Stuart have been working tirelessly for over 4 years at Aberlady Primary School, where they run a Jogging Club before school even begins.
The club, which starts at 8am, is open to anyone at Aberlady Primary school between Primary 2 and Primary 7 and they regularly have anywhere from 25 to 65 children attending each day. This is pretty impressive when you consider the school roll at Aberlady is only 175!!
Each week the children are challenged to run around the set out track and each year they even organise the Aberlady Gala Fun run event. This involves children running from Aberlady along the beach at Gullane where they participate in fun games before running all the way back again…a firm favourite with the locals!
With the club starting so early, the guys involved have very little support and even through a period of 6 months where there was no Active Schools coordinator in place, they still managed to run the club every week, no mean feat when you realise how much work is required to keep these clubs going.
Gordon and Stuart, both parents of children attending the Primary School hugely deserve this award as they run the club week in week out, in all weather for all 4 years they have run the club…all of which they have done as volunteers and asked for nothing in return.
The number of children who have benefitted from this club is massive and on behalf of everyone involved they deserve enormous thanks and praise for all their efforts!
Other Volunteers nominated for the award this month were;
Kerry de Vos – East Lothian Gymnastics Volunteer
Aaron Waugh – Tranent Active Schools Badminton Coach
Rachel Docherty and Georgia Farrell – Tranent Active Schools Aqua Fun Coaches
Michael Blair – Preston Lodge Football Coach
Daphne McGregor – Walk Leader with Ageing Well
Rhona Anderson & Megan Wright – East Lothian Athletics
Sally Heatherington – Bassrocketeers Netball Coach
Jennifer Clark – Musselburgh Rugby Club
March's award was hugely competitive and took a long time to decide the winners, so everyone who was nominated deserves huge thanks for all their continued hard work and efforts.
Inspired by Gordon and Stuart's Story?? Fancy getting involved in Volunteering yourself?
Contact Adam Martin on 07976378469 or email amartin@elcschool.org.uk