Active Schools New Partnership with Crossfit East Rocks is Huge Success
New Partnership Gives Children New Sport to Participate in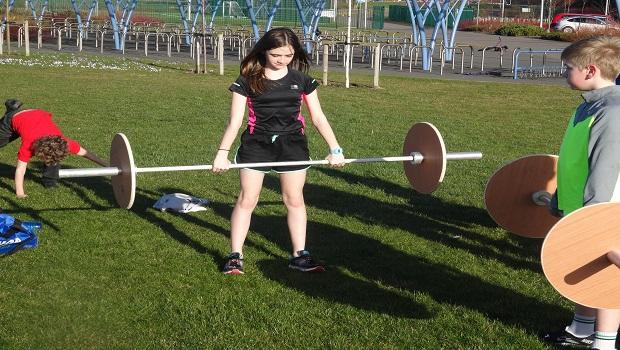 Since Christmas Active Schools formed a new partnership with Crossfit East Rocks who are based out at Foxlakes Adventure. This new partnership meant Active Schools could now offer Fitness classes for children P1-P7 in the Dunbar Primary Cluster and S2-S4 in Dunbar Grammar School.
The initial plan was too have 1 class on a Tuesday (P4-7) and 1 class on a Wednesday (P1-P3). However after the 1st day of the letters being out Crossfit East Rocks kindly added two more classes because the 1st set of classes filled in one morning.
We now have 4 classes up in total which are all full. The P1-3 classes have a waiting list of 5 children and the P4-7 has a waiting list of 17 children. To say the fitness classes have been a success is an understatement. Additionally, CrossFit East Rocks input has been a huge success in Dunbar Grammar School, delivering a progressive six week block within the PE curriculum. The Dunbar Grammar School pupils have thoroughly enjoyed the opportunity to take part in a new and challenging activity. The enthusiasm of the instructors, Lawson and Emma has made an extremely positive impact and as a result our pupils have been overcoming physical challenges unlikely any they have faced before. Active Schools will be sitting down with Crossfit East Rocks in the next few weeks to discuss term 3 plans with the goal of further input in both Primary and Secondary as well as a new extra-curricular club in Dunbar Grammar School. So watch this space for future developments. They are also linking up with Knox Academy and North Berwick High School in the future. This has all come around through great partnership working between Active Schools and Crossfit East Rocks.
A big thank you must go to Emma and Lawson of Crossfit East Rocks who take the classes and are really inspiring the children who attend.
If you would like to know more about Crossfit East Rocks please click on link https://www.facebook.com/CrossfitEastRocks?fref=pb&hc_location=profile_browser
If you would like to know more about working with Active Schools contact Gareth Hill at ghill@elcschool.org.uk and Sean McNee at smcnee@elcschool.org.uk.