Dandara North Berwick Law Race
In The Name Of The Law!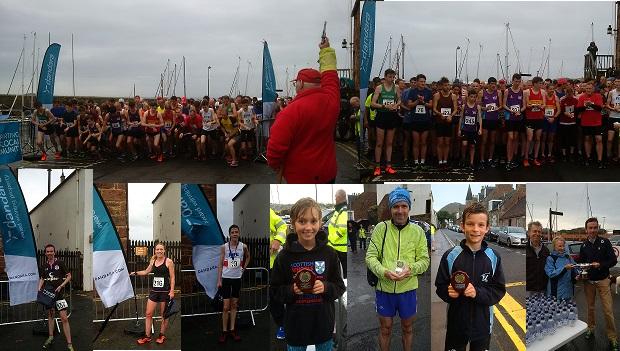 Dandara North Berwick Law Race, 1st August, 2018
Despite the down pours, the 2018 North Berwick Law Race was a huge success. With over 240 participants turning out to race from the Harbour, through the town and then zig-zag up to the very top of The Law to receive a wrist band, before making their way back down the same route to the finish line where they received their commemorative Dandara North Berwick Law Race medal along with a goodie bag kindly donated by our fabulous sponsors – Dandara – There were also trophies for a number of different categories, also donated by Dandara.
The overall winner was Scott Fraser, who completed the monster Law in an incredible time of 19.18. Scott not only won the Dandara trophy and medal, but also the Robin L Morris Memorial Cup. This is the first year this cup has been presented at the race and was kindly donated by Robin's family and very good friend Douglas Scott – Douglas ad Robin's wife, Roz, presented the Quaich to Scott. It turns out that Scott was introduced to running and inspired by Robin which is very fitting. He will keep the cup until next year at which time he will come back and contest it once again. Therefore, his time of 19:18 will be the new Robin L Morris Cup Record – can anyone beat it next year?
First lady over the line was Catriona Morrison in an impressive time of 23.34, who also won 1st Lady Vet. First Male Vet was Dessie Flanagan in 20.51 and superb runs from Gavin McWhinnie, first junior in an amazing time of 21.48, Angus Wright first U15 boy in 22.05, Isla Hedley first U15 girl in 24.43 and huge congratulations go to all the runners who braved not only the Law but also the weather and who completed one of the toughest races in the region.
There are a number of thank you's to be made to the amazing people behind the organisation of the race: Barry Craighead and his colleagues at Edinburgh Athletics Club for Marshalling, Timekeeping, Results and Registering all entrants, East Lothian Council and Enjoy Leisure for their support, the Lifeboat Station and Volunteers for the use of their facilities and helping with setting up of the registration area, Police Scotland for their help managing the traffic at the major roads and roundabouts, North Berwick Fry for the fantastic and scrumptious free Ice Cream for all finishers and, of course, to the main sponsors Dandara for their support and backing of the event.
Results can be found at the following link: