David Campbell wins Dunbar Primary P5 Table Tennis Championship
Campbell Oustanding Performance lands P5 Title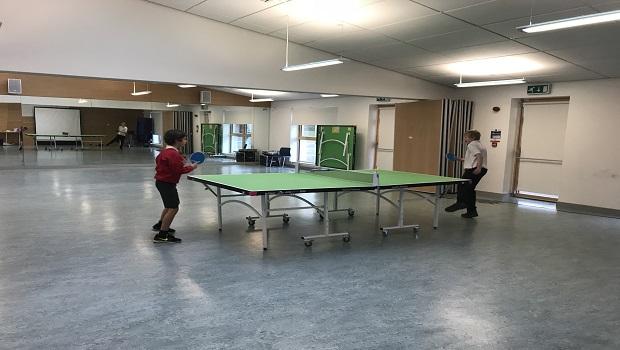 27 P5s signed up for the Dunbar Primary School P5 Championship. The tournament came about because Haddington Table Tennis and East Lothian Table Tennis led PE Support sessions delivered in the school.
However as the tournament progressed it became clear two players were standing out. David Campbell and Tom Falconer were on different sides of the draw and were set for a collision course in the final. In the semi finals both lifted their performance again and moved swiftly through to the final.
In the final it was Campbell who took the crucial points. In the first game the score was 8-8 and Campbell played a driving forehand down the line which clipped the edge of the table and then gave him a boost to seal the first game 11-8. In the second game Falconer raced to a 6-1 lead. Campbell wouldn't be denied though and powered back tol take the game 11-9. With it being best of 3 Campbell took the title.
Also the school staff took part in a teacher training and 8 staff will now be delivering TT to the pupils which means the sport will only grow in the school.
If you wish to know more about Table Tennis for Primary Schools in the cluster please contact Active Schools Coordinator Gareth Hill on ghill@elcschool.org.uk or 07976377642