East Lothian Falcons U15's Fixtures Highlight Collective Effort
Two East Lothian Falcons U15's teams show up well in district fixtures against the Borders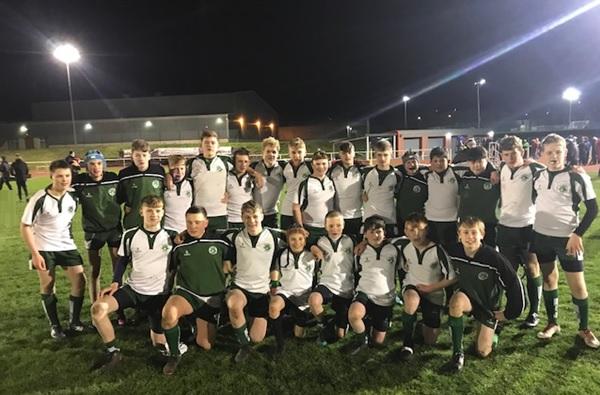 The Falcons U15's recently played fixtures against the Borders U15's squads. The first round of fixtures took place at Meadowmill where the Falcons U15's 'Green Team' took on the Eastern Stormers, one of the Borders u15 teams. In the second fixture of the evening, the Falcons 'White Team' took on the other Borders team, the Western Warriors. The first game was a tight affair with the Stormers ruining out 26-19 winners. In the second fixture, the Falcons 'Whites' proved too strong for the Warriors running out winners 26-10.
The second round of fixtures were held at Duns Rugby Club and was a reverse of the first fixtures. The Falcons 'Whites' put in a solid display and scored some impressive team tries. In the second hald the Stormers bounced back with their subs making a big impact. In the end the Falcons ran out winners, 36-19. The last fixture of the programme saw the Falcons 'Greens' take on the Western Warriors and after a great first half they were up 4 tries to 1. The Warriors rolled on a strong team for the second half and managed to claw their way back to take the lead. The game had a pulsating finish with the Greens scoring and converting a try to re-take the lead. The last play of the game ended with the Warriors going over in the corner as the greens defence just couldn't hold out. The game ended in a draw 29-29, probably a fitting result.
The quality of all four fixtures was very high, the intensity of the games were also a real step and challenge for all the players. Over the course of the programme, more than 50 players got the chance to represent the two East Lothian U15 teams and the commitment to training and improving was outstanding from all involved. It was also great to see the buzz created around the fixtures with parents, club and school coaches all being very supportive and encouraging during the programme. The programme was a great success all round and the quality on show bodes well for the Regional Academy U16 team in the summer which will be made up from the best players from the four teams that took part.