East Lothian Secondary Schools Cross Country Championship 2019
Secondary Schools Cross Country - Foxlake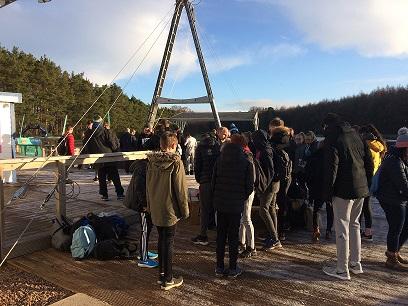 On Wednesday 30th January, the 2019 East Lothian Secondary Schools Cross Country Championships took place in the magnificent surroundings of Foxlake, near Dunbar.
The event was a huge success with 181 secondary pupils taking part in 4 races – S1 Girls and Boys, S2 Girls and Boys, S3 Girls and Boys and Senior Girls and Boys (S4 – 6). The course was challenging with hills to get up and a variety of rough terrain to give runners a real test of their ability, stability and stamina. The S1 – S3 pupils ran a 3k course with the S4 – S6 running a 3.7k route.
They were also very lucky with the weather – dry, no wind and sun shining, even if it was a little on the chilly side.
The highlight of the event was the senior boy's race. On the last 200m there was a battle on between Fraser Kelly, Dunbar, and Joe Donnelly, North Berwick. The crowds were cheering and shouting as the finish line came closer and closer, with nothing between the two boys as they sprinted shoulder to shoulder. The first over the line, by a hair, was Joe Donnelly but it was a very well fought battle.
Fastest time for the S1 – 3 Girls was 12.21 by Katie Johnson of Preston Lodge; S1 – 3 Boys was 11.12 by Angus Wright of North Berwick High School and in the seniors races Cera Gemmell finished in 13.55 and Joe Donnelly in 13.25.
The results of this event will be converted into points for each school and will go towards the overall totals for the Youth Games later in the sporting calendar.
The morning was enjoyed by all who attended, and the staff at Foxlake were outstanding going above and beyond to make us feel welcome and helping to make the event so successful.
Thanks also go to Dunbar Grammar who, once again, supplied a full set of Marshals to look after runners out on the course; Rhona Anderson, Megan Wright, Sandy and Andy who not only organised the course, but also collated the results.
Results can be found through the link below: