First Time For A Long Time!
First Time For A Long Time!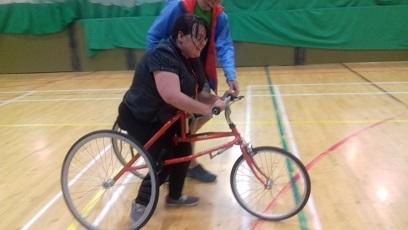 On Sunday 6th May, we held a 'Come and Try' event, to allow people with disabilities to come along and have a shot of a Race Running Bikes here at Meadowmill.
I am delighted to say that the event was a huge success, well attended and enjoyed by those who participated.
I really want to highlight one of our participants – Karen Sutherland. Karen is the most amazing and inspiring young lady. Karen suffers from Cerebral Palsy and ME. As such, she is confined to a wheelchair for mobility and has to be very careful about what and how much she can do, particularly physically. Karen also has a very beautiful dog that helps her with many basic everyday things that we take for granted in our lives, things like picking the mail up from the door mat in the morning for example. Her dog was extremely excited watching is 'Mum' on the bike. You can see from the photo above, Karen really enjoyed being on the bike. We had quite an emotional moment, when Karen said to me, "….this is the first time in 3 years that I have walked unaided..". I haven't felt that type of emotion and was delighted and privileged to be part of this, quite literal, massive step for Karen. She is an incredibly determined young lady who, despite all the barriers, wants to get fit and enjoy life to the full. Karen came to the sport's centre on Sunday after her weekly bowling session, and she has a number of other activities and groups which she enjoys each week.
An inspiration to us all!
Everyone enjoyed the event and could see the major benefits to individuals that these bikes offer, not just physically but socially and emotionally too.
Following on from this success, I am delighted to say that there will be a new Disability Athletics Squad beginning very soon, based at Meadowmill, through Haddington Running Club and Team East Lothian AC. More details will follow soon……..Watch This Space!