Funding Secured For Running Bikes
Pictured below: Some of the TEL Athletes and Coaches recieving the generous cheque from Barry Craighead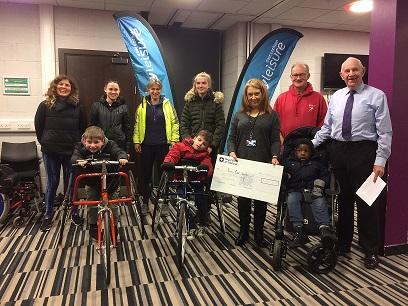 With its first ever appearance on the International Para-Athletics stage, Race Running is an every growing sport for athletes with a lower limb difficulty. Over the past year, Team East Lothian along with Queen Margaret University have built a small squad of keen athletes.
Around 18 months ago, they delivered a taster session for children and young people in the region and around 12 people attended. It was a very emotional day, with some of these young people having never had the ability to 'walk' independently and without the aid of a carer. Some of these athletes are still attending the sessions and TEL is hoping to expand the club – now named 'Team East Lothian All Abilities Race Running Club'. As each the bikes can only be used by one athlete at a time, it was vital that the club raised funds to increase its resources to cater for a growing membership.
Thanks to Fa'side, Haddington & Lammermuir, Musselburgh, North Berwick and Dunbar & East Linton Area Partnerships who each donated £1333, along with Barry Craighead – the founder and only surviving member of The Thistle Foundation – who donated £4106, the club can now expand and encourage many more local young people to come along and get involved. Not just an amazing way to exercise and keep fit but also a great social occasion.
A spokesperson for Team East Lothian said "We are absolutely delighted with the generosity of all the funders and words cannot really do justice to the impact these bikes will have to the lives of our local children, some of whom suffer from Cerebral Palsy and other lower limb difficulties. To have that independence to move freely around the track at Meadowmill is just incredible."
If you would like further information about Team East Lothian's Race Running Club, please contact: lgilroy1@enjoyleisure.com