Future Swimming Stars Shine Bright
Success for Matthew and Carlos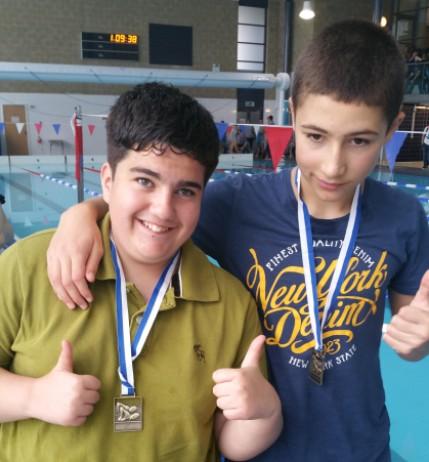 Saturday saw one of the first meets of the swimming season held at Mercat Gait, Prestonpans.
The Lothian Disability Swimming Gala is a regular feature in the calendar and this year, the number of swimmers competing had risen. The atmosphere was fantastic, with the swimmers all supporting each other throughout the day.
Around 10 of these swimmers came from East Lothian and from a number of different clubs, with Enjoy Leisure's club having 2 swimmers participate on the day.
Matthew Burns competed in 4 events, gaining personal best times from 3 of the 4 swims. His swim in the 25m adapted breaststroke was incredible, smashing his previous best of 1.10.03 to finish in 44.89, a 26 second personal best time!
Matthew gained confidence from this race, continuing to improve on his best times in the 50m Freestyle Back (1.21.24) and the 25m Freestyle Front (39.03). His 50m Freestyle Front was just outside his best, however displayed good technique to finish the race.
Carlos Williams had 3 outstanding swims. He swam in the 50m Adapted Breaststroke (1.03.41) and 50m Freestyle Front (57.26), events which he had never swam competitively before and posted exceptionally quick times.
His swim in the 25m Freestyle Front was a fantastic effort, dominating the race from start to finish in a time of 21.30 displaying great technique and strength.
Both Matthew and Carlos were happy with their swims and medals and looking forward to the next challenge!
The club are a small team based at Musselburgh Sports Centre. Head Coach Sharon Humble has only been in position a few months, but the results are already beginning to speak for themselves. The number of members has increased dramatically –from 5 to 17 swimmers. The children are becoming more determined, setting themselves goals and fitness levels continually improving. The future looks bright for our swimming stars!!
For more information on disability swimming, contact swimming@enoyleisure.com