Junior Golf Fun Competitions
Short course 9 hole Stablefords at North Berwick Golf Club Wee Course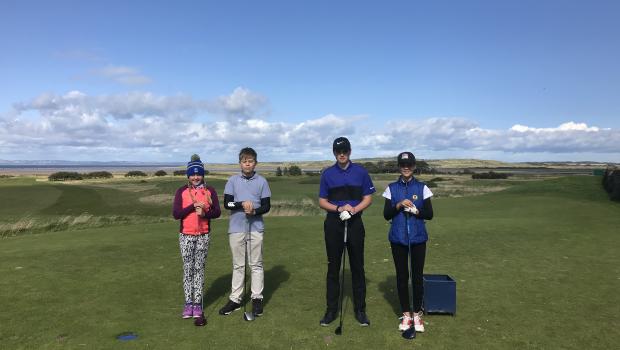 Scottish Golf announced that clubs can run Open Competitions which includes our Junior Fun Competitions format. The clubs have to do lots of things to be able to run opens safely such as appoint a Covid Officer and ensure their procedures are in place for NHS Track and Trace etc. We now have the below events confirmed at North Berwick's Wee Course and we are all set with the required Covid procedures and of course we will have support there on the day to help oversee things. With your support by following our Safe Golf Fun Competition Guidelines we'd like to invite juniors U14 to take part in a series of fun comps before the end of the season.
DATE

FORMAT AND TIME

Venue

Sat 26th Sept

9 hole Stableford

All start: 1400

North Berwick

Wee Course

Sat 10th Oct

9 hole Stableford

All start: 1400

North Berwick

Wee Course

Sun Nov 8th

9 hole Stableford

All start: 1400

North Berwick

Wee Course

Sun Dec 6th

Adult Junior

Santa Scramble

All start: 1045

North Berwick

Wee Course
BOOKING DEADLINE: a week prior to each competition however if you could book as far in advance as possible that would help greatly.
ADULTS: Please could you let me know if you are able to stay to walk round so that I can ensure I have one adult per group.
If your child needs guidance then it would be best if you could stay to support them to get round the course.
Format: Stableford
Price: Free of charge
Criteria: open to players that have some coaching and short course playing experience.
Target age: under 14
Competition categories: Primary/Non handicap and Secondary/Handicap
To enter email: kgreen@eastlothian.gov.uk
Please confirm:
Players Name
Home Club or where you attend coaching
If you have a Handicap please confirm your handicap
Mobile contact number (for track and trace)
Please also state that you have read over and agree to adhere to the Safe Golf fun comp guidelines: YES/NO
Which dates would like to book in for (delete as appropriate):
Sat 26th Sept
Sun 10th Oct
Sun 8th Nov
Sun 6th Dec
ALL DATES
Competition Rules
All players max 6 shots per hole
Pick up if you've hit 6 and aren't in the hole and put a 0 on your card
Write your actual score on the card and I will work out the stableford points
Prizes for any 2's and nearest the pin
| | |
| --- | --- |
| Score | Points |
| 6 | 1 |
| 5 | 2 |
| 4 | 3 |
| 3 | 4 |
| 2 | 5 |
| 1 | 6 |
Players will clock up points at each event towards the Junior Golf Order of Merit. We hope to again be able to invite the top 12 players in our Order of Merit to take part in an end of season prize winners clinic in 2021.