Just another manic Monday in May
East Lothian Junior Golf results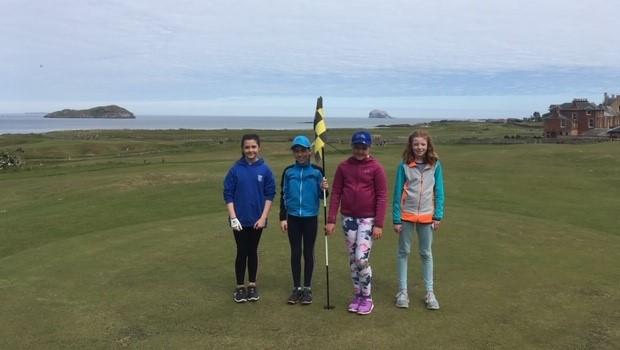 We had a close to capacity turnout of 27 junior golfers at our second May holiday competition at North Berwick's short course on Monday 20th May.
The short course again proved a great venue for golfers both with and without handicaps. The weather was kind so there was again lots of good scoring and a very close competition.
It was great to see another of our regular golfing girls, Gemma McArdle, take the top spot in the Non-handicap Division. Gemma beat Frankie Moore into a very close 2nd by one point and Frankie in turn beat his little brother Harry Moore into a very close 3rd by only 1 point!
We also had a new name at the top of the Handicap Division, Ben Churn, who beat Joseph Armstrong into another close 2nd by one point! With such a close competition it proves that every putt really does count both individually and for your team! Full results below:
Handicap Division
1st - Ben Churn (25 points)
2nd - Joseph Armstrong (24 points)
3rd - Rory McArdle (21 points)
Non Handicap Division
1st - Gemma McArdle (26 points)
2nd - Frankie Moore (25 points)
3rd - Harry Moore (24 points)
Team (Best 2 Stableford per hole)
1st - Jospeh Armstrong, Liam Murray and Harry Moore (54 points)
2nd - Louise Martin, Rebecca Wilson, Gemma McArdle. Eleanor Stirling (53 points)
Nearest the pin at the 1st - Rory McArdle
Nearest the pin at the 6th - Ben Churn
2s - Ben Churn, Harry Moore and Louise Martin
For full results and update order of merit click here
Our next fun competition is:
Venue: Longniddry Golf Club
Date: Sunday 9th June 2019
Times: 1400 – 1500
Price: £3 payable at registration on the day
Format: 13 hole stableford from red tees (Handicap Division) or 6 hole stableford from US kids tees for players (Non Handicap Division)
Stableford Format: players get points for scores and can pick up when they are over the points scoring number of shots on a hole
Please note Non Handicap standard: as this is being played on a full course we need to ensure players are able to keep a good speed on the course. Players scoring less than 15 points in short course competitions are probably not ready for the full course competition yet.
To enter email: kgreen@eastlothian.gov.uk
Deadline for entries: Friday 31st May 2019
Click here to view the 2019 East Lothian Junior Golf Fixture list which has details of playing opportunities for all ages and standards.