Lothian Disability Sports Champions
Lothian Disability Sports Champions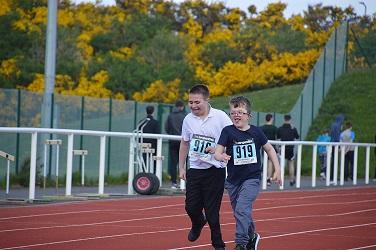 On Thursday 10th May, Meadowmill Athletics Arena saw the Lothian Disability Sports Championships being held. A total of 69 children and young people took part in events ranging from 60m sprints, RaceRunning over 100, 200 and 400m to long jump and a variety of throwing events. Each event was well supported with athletes entering up-to 3 events each.
The Athletes travelled from all over the Lothian's and even all the way from Aberdeenshire to compete in the events. 11 Schools/clubs were represented on the day and ages ranged from 8 years to 34 years.
All participants had a fabulous day, supported by a number of volunteers and staff from Scottish Athletics, Scottish Disability Sports, Enjoy Leisure, Lothian Disability Sports and Team East Lothian.
As you can see from the selection of photographs, it was a superb day with wall to wall sunshine, not just in the sky but on the faces of everyone who was taking part and assisting.
Some very good results were recorded; well done to Jack and Colin from Cedarbank for their Javelin throws of 22.34 and 22.41 meters; Kate from George Watsons who ran a great 100m in 19.3 seconds; Zac from Saltersgate with a Shott throw of 9.68m; Struan from Dunbar with a softball throw of 17.73m; Misbah from Pinewood with a standing long jump of 2.07m and some superb runs too; Kyle's long jump of 4.7m for Cedarbank and Kerry and Finlay who were 1st Female and 1st Male in the RaceRunning events.
A great day had by all!