Park Run Hits East Lothian
Inaugural Park Run At Meadowmill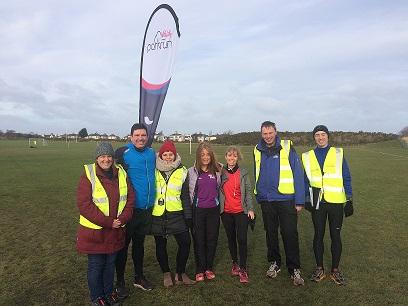 (Picture above: Ruth (Core Team), Andrew Aird (Park Run Ambassador), Agata (Core Team), Lynda Gilroy (Athletics Development Officer/Team East Lothian), Angela Leitch (Chief Executive, East Lothian Council), Andy Murray (Co-Event Director), Martin (Core Team)
We are delighted to announce that the all new Meadowmill Park Run started with a bang on Saturday 9th February. 173 runners completed the 5k course around the Meadowmill Sports Centre. It was a challenging day with howling gusts of wind but it wasn't enough to blow away the enthusiasm of all the runners. The course is a challenging one with changing terrain under foot and some short undulating areas to give all runners something to think about.
First over the line was 18 year old Kieran Cooper in 17.27 minutes, followed by his Dad Richard Cooper in 18.33 minutes. The Cooper's had travelled up from England to run in the first event, as did a number of the participants who are Park Run Tourists, and those who had come to Edinburgh to watch the Rugby at Murrayfield in the afternoon.
First Junior was Alastair Gibbs and first lady, Julie Oswald from MADaC. Also completing the challenge was the Chief Executive of East Lothian Council, Angela Leitch, finishing in an impressive time too.
A massive well done to the core team lead by Andy Murray and thanks to all marshals who volunteered and made the event such a success – Park Run cannot run without these marvellous people; if you would be interested in volunteering, please check out the facebook page or website for details.
Thanks also to the generous sponsors – Team East Lothian, East Lothian Council Partnership Project and Infinite Apps Ltd – all of whom funded the initial venture.