Preston Lodge Senior Football Team
Preston Lodge Senior Boys Football Team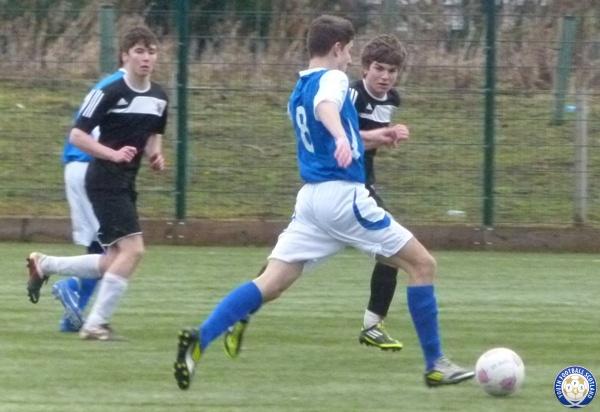 A bitter, cold afternoon at St Augustine's High School (accompanied with sound of a bagpiper punctuating the chilly air) set the scene for this topsy-turvy match between St Augustine's & Preston Lodge, which saw plenty of drama in the closing stages.

Goals from Jack Thomson and Darren Mitchell left things all square at half time. The drama unfolded towards the end of the second half when, with twelve minutes to go, Craig McLeod put Preston Lodge ahead. St. Augustine's responded two minutes from time; striker Shaun Picken was brought down in the area, giving the home side a penalty which was calmly put away by midfielder Shaun Stevens, ending the match 2-2.

The first half was a sloppy affair with most chances coming from set pieces. The first came six minutes in when a Preston Lodge corner met the head of Euan Cameron, forcing a good save from St. Augustine's goalkeeper Michael Cockburn.

Another opportunity came Preston Lodge's way, a free kick 24 yards out struck by Robbie Menzies, whose effort skimmed the top of the crossbar. Preston Lodge were on the attack again, Adam Forsyth found himself in the box but his strike was blocked from an alert James Paris in the heart of the St Augustine's backline.

Preston Lodge's persistence paid off on the half hour mark. Unsurprisingly, a set play was the provider: a fantastic ball over from Menzies, whose delivery was menacing all afternoon, was met expertly from Thomson and the midfielder's volley was slotted nicely into the corner with a superb finish.

With just one minute before half time, St. Augustine's managed to level the match against the run of play; a Preston Lodge attempted clearance cannoned off a team mate and it fell kindly to Mitchell who took a neat touch and slotted it past the goalkeeper to level the match at the interval.

Half time: St Augustine's HS 1-1 Preston Lodge HS

The second half saw a bright start from the home side. The first chance coming from a ball played down the channel, Stevens cutting the ball across the area but it was just too much for team mate Mitchell who failed to make a connection.
Preston Lodge responded well as Callum Wilson played a neat give-and-go with Joe Brown but saw his shot saved from the St. Augustine's keeper.

Midway through the second half St. Augustine's had their turn at a set piece. A corner put into the box by Adam Murray was met by Ben Brigain but his shot proved to be a difficult one and went narrowly over the crossbar.

Another set piece at the other end very shortly after provided a 2-1 lead for Preston Lodge. A corner swung in by Menzies again met the head of the left back McLeod who towered over his marker and directed his downward header into the bottom corner of the goal.

The same combination almost worked again five minutes later. A Menzies corner was again met by McLeod but the keeper was on hand to prevent his second goal of the match.

With two minutes remaining, the game took a dramatic turn. Picken showed pace to get into the area and was brought down, winning his side a penalty kick. Stevens had the honour of stepping up, putting his spot kick past the goalkeeper to level the match.

Full time: St Augustine's HS 2-2 Preston Lodge HS