Schools Cross Country 2016
Over 420 Primary and Secondary Pupils take part in East Lothian School Cross Country Championships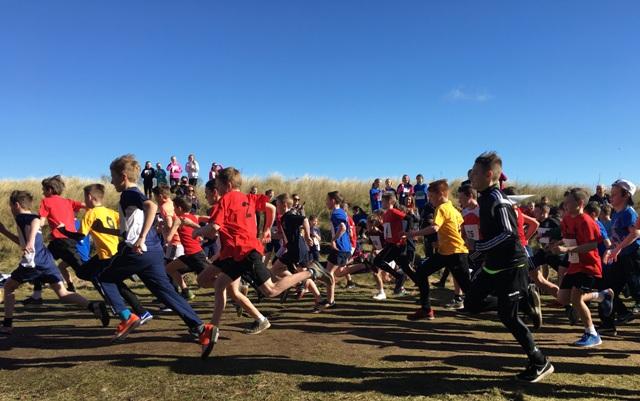 There was glorious sunshine at Dunbar's John Muir Country Park for the East Lothian Schools Cross Country Championships, and there were equally glorious victories as the 'home' schools picked up the silverware. It was the first year of a joint event for both primary and secondary championships, which saw over 425 pupils from across East Lothian.
The silverware didn't have to travel far from John Muir Country Park, as it was a case of home advantage with Dunbar Grammar School dominating the Secondary event and Dunbar Primary winning the large schools Primary event. Yester Primary School retained the team trophy in the Small Schools competition.
There were some very competitive fields in the primary events, which saw 126 finishers in the boys event and 116 in the girls over the 1.4mile course. It was Angus Wright of Law Primary who was the first across the line in the boys event, picking up the gold medal in the Large Schools event and with Katie Johnson of Prestonpans Primary School who was the convincing winner in the girls field. It was a familiar course for the pair, who won the East Lothian cross country championships last month. Although there was a strong challenge from Law Primary School, it was Dunbar Primary who retained the Large Schools Team Prize. In the small schools competition, Yester pair Aidan Ballantyre and Rudie Shearer picked up the gold medals.
It was a clean sweep for Dunbar Grammar in the Secondary event taking the eight trophies, but there was stiff competition from Musselburgh Grammar in the S1 Girls competition and it went down to the wire with the team points in the Senior Boys with Preston Lodge HS just missing out. Musselburgh's Jaye Clark had a convincing win in the combined S1-S2 Girls race, with North Berwick's Joe Donnelly the first across the line in the boys race – both over 2.75mile. In the S3 and Seniors race, Esme Callendar (North Berwick HS) was the clear winner over the 2.75mile course. With a very strong run in the S3 and Senior Boys 3.05mile course, Dunbar Grammar's Cameron Steven was the first across the line.
Primary - Large Schools
Team Prize – Dunbar Primary School
1st Boy – Angus Wright (Law PS) 1st Girl – Katie Johnson (Prestonpans PS)
2nd Boy – Callum Richards (Dunbar PS) 2nd Girl – Bridget Harley (Law PS)
3rd Boy – Callum Queen (Law PS) 3rd Girl – Niamh Richards (Law PS)
Primary - Small School
Team Prize – Yester Primary School
1st Boy – Aidan Ballantyre (Yester PS) 1st Girl – Rudie Shearer (Yester PS)
2nd Boy – Andrew Latto (Aberlady PS) 2nd Girl – Freyja Bjarnason (Ormiston PS)
3rd Boy – Jasiu Zakrzewski (West Barns PS) 3rd Girl – Torri Middleton (Dirleton PS)
Secondary – S1
Team Prize – Dunbar Grammar Team Prize – Dunbar Grammar
1st Boy – Alex Gibb (Dunbar) 1st Girl – Jaye Clkark (Musselburgh)
2nd Boy – Daniel Smith (Dunbar) 2nd Girl – Esme Balfour (Ross HS)
3rd Boy – Daniel Collin (Dunbar) 3rd Girl – Emily Murray (North Berwick)
Secondary – S2
Team Prize – Dunbar Grammar Team Prize – Dunbar Grammar
1st Boy – Joe Donnelly (North Berwick) 1st Girl – Ava Barnaby (Musselburgh)
2nd Boy – Max Ovens (Preston Lodge) 2nd Girl – Maggie Livingston (Musselburgh)
3rd Boy – Sam Bird (Preston Lodge) 3rd Girl – Annie Wilson (Knox)
Secondary – S3
Team Prize – Dunbar Grammar Team Prize – Dunbar Grammar
1st Boy – Fraser Kelly (Dunbar) 1st Girl – Esme Callandar (North Berwick)
2nd Boy – Eric Gallagher (North Berwick) 2nd Girl – Catriona McPheat (Dunbar)
3rd Boy – Max Leveque (Knox) 3rd Girl – Abigail Everard (Dunbar)
Secondary – SENIORS
Team Prize – Dunbar Grammar Team Prize – Dunbar Grammar
1st Boy – Cameron Steven (Dunbar) 1st Girl – Lucy Allen (Dunbar)
2nd Boy – Kieran Jack (Preston Lodge) 2nd Girl – Jessica Robertson (Dunbar)
3rd Boy – Ellis Grieve (Preston Lodge) 3rd Girl – Shawnisay Millar (Dunbar)
Full results are attached below - please report any errors to athletics@enjoyleisure.com