Sponsored Swim a Huge Success!
Determined swimmers push themselves to the limit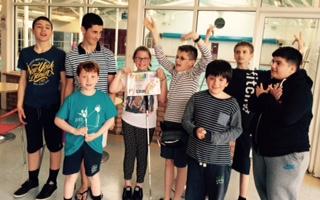 Last Tuesday, swimmers from Enjoy Leisure's Disabilty Swimming Club completed a sponsored swim.
Swimmers were encouraged to complete as many lengths as they could over the 45 minutes. They were able to swim any stroke but were encouraged to continually swim, with the final count being taken when the swimmer stopped.
Carlos completed 24 lengths during the allocated time whilst maintaining great swimming technique.
Matthew finished with a total of 26 lengths. This was a tremendous acheievment as his previous best was 16 lengths.
Angus was very determine to beat his previous best of 10 lengths and did just that, finishing with a total of 12 lengths.
Callum completed 2 lengths which was a fantastic effort by the young man!
The children decided which charities were to benefit from their hard earned money and chose a number of charities which meant something to them.
The charities receiving donations were -
Riding for the Disabled, TASK and East LothianSpecial Needs Play Scheme.
Sharon Humble (Lead Coach for the Club) has worked hard with the children over the last term and was delighted by their efforts. The children have shown true determination to beat their previous best swims and are training very well. The progression over the past few weeks has been fantastic.
For more information on the Disability Swimming CLub, please contact Karen Ferguson on kferguson@enjoyleisure.com