Surfing keeps on Rising in the Active Schools Total Adventure Programme
Coast to Coast Surf School shines again in Total Adventure Programme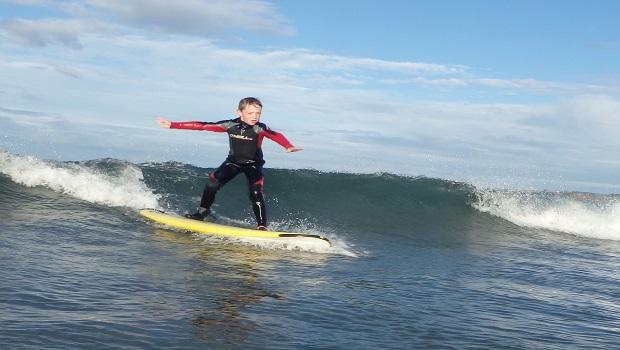 This year's active schools programme has been amazing with over 120 East Lothian Primary School children doing surf courses with Coast to Coast Surf School over both terms.
The autumn term has been brilliant, with lovely waves for our groups almost all the days and the weather has been unusually warm, we are still without boots enjoying the warm sunshine at the start of October which is really unusual!
The surfing has grown and grown over the last 2 years that Active Schools now offer 4 classes. All 4 classes filled within 3 days of going online and a waiting list of 30 children. This is down to the quality service Coast to Coast Surf School provides.
"We had great waves throughout the autumn sessions varying from perfect waist high waves to some very big swells (double to triple my height). All the children had fun in the white water and small unbroken waves and the weather this year was really warm. Within the classes themselves we saw a lot of talented children with a few stand outs likely to make our youth development teams in the next few years. Again super fun and look forward to the summer 2016 term!!" Sam Christopherson, head instructor, Coast to Coast Surf School.
The classes will start in the summer term of 15/16. However there will be more positive news with regards to classes so watch this space.
For those that have enjoyed our courses this year there are still a few spaces in the October holidays 2014 and we hope to see you all next year. Details www.c2csurfschool.com
Active Schools would like to thank coast to coast surf school. Without their continued support of Active Schools we would not be give every school the opportunity in East Lothian to participate in Surfing lessons.
If you would like to know more about the Total Adventure program please click on the link below
If you have any questions about Active Schools in your area please click on the link below.