The Lodge Loop Christmas Special
Christmas Jumpers and Antlers At The Ready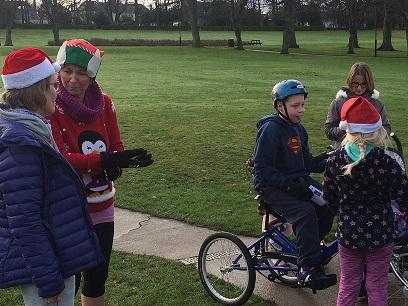 Fun and laughter at another meeting of North Berwick families and friends who took part in a Christmas Special Lodge Loop on the Sunday before Christmas.
A great turn out with around 80 people participating. Some walked one loop and others ran 3 loops and Charlie peddled 5 loops of the beautiful gardens. The weather was kind to us too.
After the enjoyment of some physical exercise and fresh air, we were all treated to hot chocolate and mince pies which were kindly donated by Cake and were extremely yummy! Great to have the opportunity to have a chat and get to know some of the other walkers and runners and really looking forwards to meeting up with them again at the next Lodge Loop on Sunday 6th January from 11.30am – if you would like to be part of the fun, meet us all at the Pavilion in the Lodge Gardens, North Berwick.