Virtual Training Opportunities
for coaches and volunteers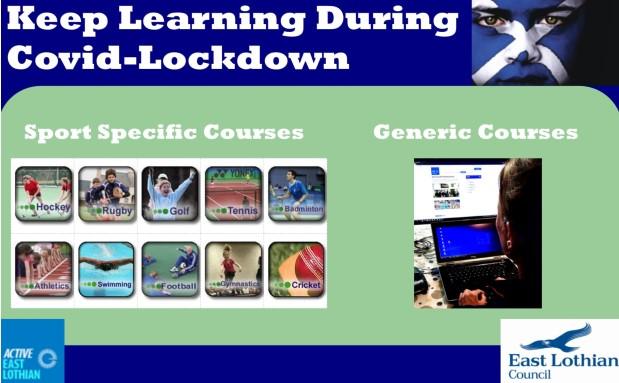 SportScotland offers a year round range of professional development courses, workshops and conferences:
Sportscotland & Changemakers consortium are hosting webinars on Fridays disucssing the themes: Clubs and Communities Framework and Changing Lives through sport and physical activity approach
To sign up for "Getting your facilities fit for Sport" on Friday 26th June 2020, Time: 1300 - 1400, complete the sign-up form
Future Learn an excellent online learning platform which is free to join and provides many courses with educators' guidance. Lots of free courses plus the choice of upgrading at a cost.
Open Learn courses are available to start right away with a growing selection of courses offering a free Open University digital badge.
National Carers Services a Skills Tool Kit offering a range of resources to help improve your digital andis offering free webinars discussing range of topics numeracy skills
Observatory for Sport in Scotland offering free fornightly webinars for all those involved in sport. They provide a platform to discusss research around sport, recreation and movement to identify problems and trends, fill knowledge gaps and educate.
The Virtual College has produced a range of free e-learning courses in subjects such as Safeguarding Children, Health and Well-Being, Careers Advice and topical free Prevent Covid-19 online workshop.
Scottish Disability Sport delivers an annual programme of education and training opportunities for leaders and coaches. Geared towards developing new and existing sports such as boccia and also covering topics such as autism awarenss and Disability Inclusion. During lockdown they are also offering a free online workshop: Self-Reflection & Developing your Coaching Philosophy offering coaches the opportunity to explore different concepts in short segments online.
Sports Specific Coach Education
Scottish Hockey offers a range of training and development opportunities for those involved in the sport including coaches, volunteers and umpires. Their creative range of courses include courses, workshops, roadshows and Community of Practices.
Scottish Rugby coach education ranges from coaching P1 mini Rugby through to adult Rugby. Additional education covers Strength and Conditioning, Child Protection, First Aid and Officiating. Scottish Rugby use an online training platform that you will need to register with and then use a training key to get access to all SRU material. The code is SRUTH1872
Scottish Football offers a range of coach education courses including: Introdution to coaching (1.1), Youth & Adult Coaching (1.2), Youth & Adult Coaching Award (1.3) and Children's Coaching Award (1.3)
Attending a Children's Wellbeing Course is a prerequisite to attending any of the above football coaching courses.
Details of SFA courses are also available on their twitter page
Scottish Golf provides education and training to those involved in the running and administration of affiliated clubs, through workshops and seminars.
These include: Golf Coach Education, Get into Golf Workshops, Child Protection & Wellbeing in Sport, Child Protection & Wellbeing in Sport: Safeguarding Officer and Emergency First Aid
To find out more about Sports Specific Coach Education in a wider range of sports including tennis, swimming, gymnastics and athletics click here