Volunteer Spotlight Award Winner – Mairi Heron
East Lothian Gymnastics Academy Coach Mairi Heron wins a Volunteer Spotlight Award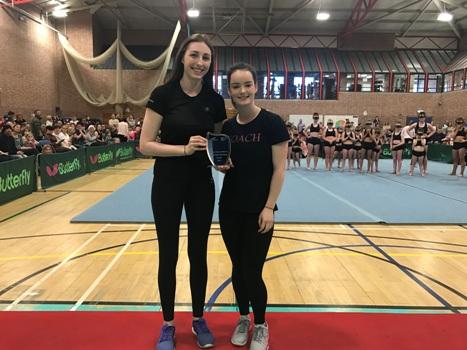 Another one of our Volunteer Spotlight Awards was recently presented to School Pupil and Gymnastics Coach, Mairi Heron at the East Lothian Annual Gymnastics Showcase event
Mairi is in her last year at high school, and currently studying for her final exams before she leaves school. Despite being extremely busy with studies, Mairi coaches Gymnastics for East Lothian Gymnastics Academy (ELGA) 4 times a week, mixing between working with Development Classes, and beginner classes. She was presented the award by East Lohtian Gymnastics Development Officer, Catriona Morton.
As if that isn't enough, Mairi even Volunteers at each of the ELGA events that her gymnasts go to, sometimes even giving up her entire weekend to ensure the gymnasts can compete at every opportunity.
One club member, Hayley Douglas said this about Mairi: ''She is a great role model to all our gymnasts who look up to Mairi and adore her. Nothing is too much hassle and she is a credit to ELGA'
Everyone at Active East Lothian and ELGA passes on their congratulations to Mairi on winning this award, and aswell as the award, Mairi has been inducted into the Volunteer Roll of Honour for all her efforts!!
Do you know someone who deserves an award like Mairi? Why not nominate them by visiting - http://www.activeeastlothian.co.uk/page/volunteer-roll-of-honour-86
Are you Interested in getting involved in Voluntering? Why not check out our Volunteering Home Page - http://www.activeeastlothian.co.uk/volunteer/