Would you like to see Gymnastics in North Berwick Sports Centre?
Enjoyleisure are looking for feedback from the local community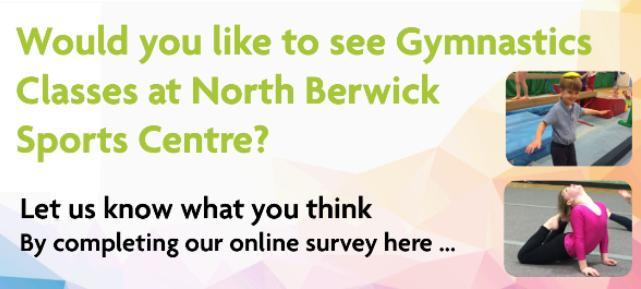 enjoyleisure currently offers a recreational gymnastics-coaching programme in the catchment areas of Haddington, Musselburgh and Tranent and has programme of over 50 classes a week for children aged 9 weeks +.
Staring with Baby Gym, Gym Monkeys and Tots Trampolining infants are introduced to apparatus in a safe, stimulating, fun environment filled with games, singing and laughter. As children reach primary 1 age they can move into Gymnastics and/or Trampolining classes where they will discover various pieced of equipment, learning new skills and putting together routines.
enjoyleisure are currently carrying out a feasibility study to identify if there is sufficient demand to extend the current programme into North Berwick Sports Centre.
enjoyleisure are inviting the community to provide your feedback on this topic by completing their online survey available to view here
https://www.surveymonkey.co.uk/r/northberwickgymnastics
Survey closing date: 31st January 2019
For any questions or for further information please contact Catriona Morton, Gymnastics Development Officer via gymnastics@enjoyleisure.com or 01875 619072