Move More East Lothian
Macmillan Move More has arrived in East Lothian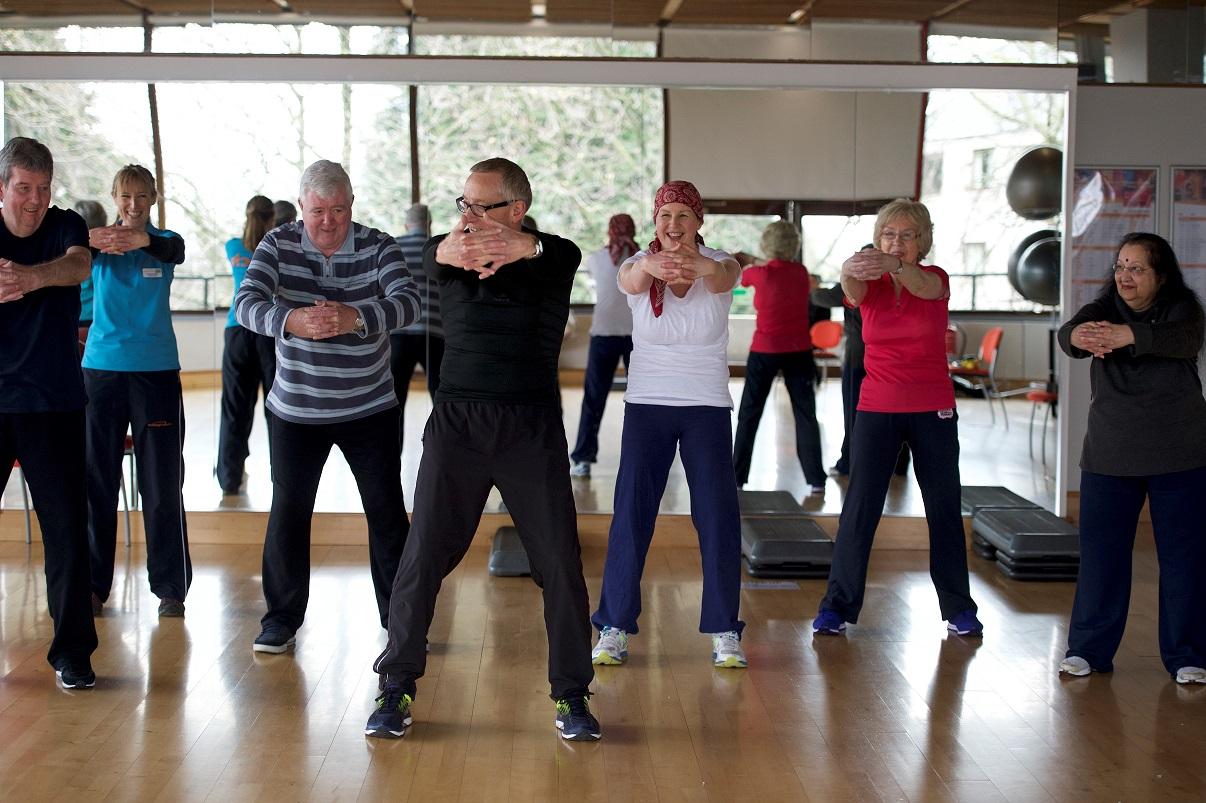 Move More East Lothian is a physical activity programme which offers a range of activities, across the county, designed for people living with, and beyond, cancer.
*** SERVICE UPDATE ***
Unfortunately we're unable to offer any face-to-face classes until government restrictions are eased, but have online opportunities and telephone support to help you increase your activity. If you are interested in finding out more, please email movemore@enjoyleisure.com or call 0131 653 5264 / 07929015087 (Mobile)
Macmillan Cancer Support also offers a range of resources on the Macmillan website and support line, as well as local advice and welfare rights;
Macmillan Support Line: For information, support or just someone to talk to, call free on 0808 808 00 00. The Support Line is open 7 days a week, 8am – 8pm, or visit www.macmillan.org.uk.
Coronavirus: People with cancer are understandably worried about Coronavirus. For the latest guidance from Macmillan Cancer Support, please see https://www.macmillan.org.uk/coronavirus. There is a wealth of information covered, including how to stay well and keep active whilst staying at home.
East Lothian Macmillan Welfare Rights Service: The Macmillan Welfare Rights Service works in co-operation with Macmillan Cancer Support to provide advice on benefits and debt options for people in East Lothian, living with and/or affected by cancer. This service provides free, independent and confidential advice on a range of issues.
As part of Macmillan Cancer Support's national campaign to support people living with cancer to become, and stay, more physically active and improve health throughout their cancer experience, Move More East Lothian is a physical activity referral programme, delivered by enjoyleisure, in partnership with East Lothian Council and Macmillan Cancer Support.
Fully trained exercise instructors and volunteers facilitate the activities, ensuring they are right for the participant, helping to build confidence, balance and strength, in a fun and supportive environment. The programme offers a range of activities, including;

Gym/Circuits-based classes

Gentle Movement classes (Tai Chi / Qigong fusion with meditation)

Health & Wellbeing walks

Gardening groups
HOW DO I GET INVOLVED WITH MOVE MORE EAST LOTHIAN?
Healthcare Professional / Self-Referral
Referrals can be made into the programme through any healthcare professional or by self-referral. To find out more about More More East Lothian, please get in touch or download and complete the referral form in 'Related documents' section below and send to:

NHS/Healthcare Professional Referrals: loth.exercisereferral@nhslothian.scot.nhs.uk
Referral Forms:
See 'Related documents' section below - please complete and return form to Move More or drop into an enjoyleisure centre.
Volunteer Opportunities:
Volunteers are essential to the Move More programme! They lead or support all Move More activities. If you would like to find out more about volunteering opportunities, please get in touch via the contact details
Circuits Class Instructors:
We are seeking Cancer Rehabilitation Level 4 qualified instructors to run our Move More Circuits classes. If you have these qualifications or know someone who does, please get in touch - full details are in role description the 'Related Documents' section below, or give us a call.
If you'd like to get involved in any other capacity, please get in touch - thank you!
Getting Active!
For tips on getting more active and how to get started, please visit the Macmillan website.