2021 Golf Coaching
Coaching and playing options for all abilities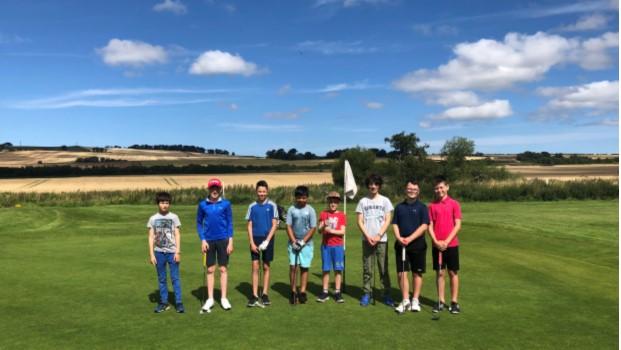 With the golf season about to start golf clubs across East Lothian will be offering a range of group and 1:1 coaching opportunities.
Contacting your local club's Pro Shop is a great place to start to get details .... Cick here for a list of our local club's PGA Pros
2021 East Lothian Junior Golf Fixture List includes a range of local playing opportunities for all standards of juniors to help improve their game and meet friends through golf.
2021 Coaching options include:
Easter and Summer Camps for juniors
Stage 1 Returners: for players with some coaching and playing experience
Stage 2: for players that are a member of a club and have a handicap or are close to obtaining one
Get into Golf for Women
Click here for details of the 2021 Weekly Coaching Options at North Berwick West Links Juniors
The West Links Junior Coaching will be starting weekly in May on Thursdays afterschool from 1615 or Saturday mornings from 0900. The 45 minute sessions covering all aspects of the game including: driving, irons, short game, scoring, course management, rules & etiquette. Groups will be organised by age: U8's,U12's, 12 & Over or Handicap Level.
Over 12 West Links Juniors Easter Camp. Date: Mon 12th - Wed 14th April, Time: 1500 - 1630 2 spaces left click here to book
North Berwick Golf Club has fantastic 9 hole Wee Course which is ideal for beginners and those looking to inmprove their short game. Click here for detail coaching and membership package
Click here for details of the 2021 Coaching Opportunties at Haddington GC with Jane.
We currently have availability in coaching sessions at Haddington Golf Club for juniors or women. The coaching sessions will be led by PGA Pro Jane Connachan who lives locally and has completed a Covid safety course so will have all the required safety measures in place. All sessions will start with short game/range coaching followed by going out on the course with Jane's guidance/coaching. Junior beginners won't go out on the course initially but remain at the practice facilities.
Craigielaw Golf Club's Junior Coaching is restarting in April, Dates: Friday 9th April – Friday 14th May, Time: 1400 – 1500, Price: £30 for 6 weeks Contact Craig or Cameron to book T: 01875 870 800 or E: info@craigielawgolfclub.com
Craigielaw's 6 hole Par 3 South Course is ideal for juniors and beginners and they have Get into Golf membership and coaching packages availble
Click here for details of 2021 Easter Camp options for players with handicaps at Gullane Golf Club.
Gullane Golf Club have 3 x 18 hole courses and a par 3 6 hole course which is free for any child to play. For more information about junior golf coaching at Gullane or to book please call contact Gullane's Pro Shop T: 01620 843111 email assistantpros@gullaneproshop.com
The Glen Golf Club North Berwick
Easter Junior Golf Camp at The Glen for all levels of experience and a great opportunity to kick start your golfing season. This is great for introducing the basics of the game of golf. Fun and relaxed with lots of games and lots of prizes!
Dates: Mon 12th April to Fri 16th April , Time: 1000 – 1200, Age: (10 & Under), Price: £60
As of 30th March there are 3 spaces remaining. To book please email Assistant Professional Michael: mbaci@hotmail.co.uk
Click here for details of The Glen Golf Club's Beginnagolf weekly coaching sessions starting on Monday afternoons for 7 weeks in May
Beginnagolf sessions are suitable for beginners and novice level golfers. Beginnagolf offers the opportunity to learn key basic skills and brush up on the fundamentals of golf to get ready for golfing this summer. Covering all aspects of the game, from full swing – putting, in a fun and relaxed environment with lots of games, drills and prizes!
For further information or to book contact PGA Pro Michael Bacigalupo: E: michael.eastlinks@gmail.com M: 0783 325 2214
Going ahead with coaching will depend on the ongoing Scottish Government Covid announcements and coaching will be delivered in line with their guidelines for coaching. Should guidelines change following any Government announcements we will alter the delivery of sessions accordingly Players will be asked to follow our "Safe Golf" guidelines at all times.
If you can't find a coaching option that suits please conact Kate Green to register your interest in future golf coaching options:
Kate Green, Golf Development Officer, East Lothian Council, Email: kgreen@eastlothian.gov.uk
If you are and an East Lothian based golf club or PGA Pro and would like to share details of coaching opportunities you have available in 2021 please also contact Kate Green: kgreen@eastlothian.gov.uk