A Year In The Life Of ....
June Issue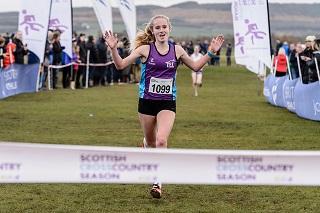 Hi, I'm Cera and I'd like to tell you a bit about what being a teen athlete is like! I'm a runner and I compete over 800m,1500m, 3000m and 5000m (as well as cross country) at everything from local to national level.
I'll be giving a brief summary of each month to let you know what "a year in my life" is like, starting with June.
June has been a varied and exciting month for me as I've started to train with a new group of older athletes, as usually I run alone and it is quite tough to keep up my motivation to train at times. These sessions are tougher than I'm used to but I am really enjoying them. I've only had a few races in June, starting with the Scottish Schools' 3000m on Friday 7th June, where I won the A girls' gold - no PB but I was happy enough! The following day I competed in the 800m at the same competition - I came 5th with a new PB (800m isn't my favourite event so I was really happy to get a PB!). The rest of the month was mainly devoted to training and school, with just one more race - a 5000m in Loughborough; this race had a very, very talented field and I was one of the youngest - therefore I was unsurprised to finish last but I managed to get a PB, so I finished my June racing happy.
I have just moved into S6 this month and so there was less homework and revision to do than I had been used to, as with extra study periods I could easily do homework in school rather than at home. This meant that after coming in from training I could relax and not have to worry about revising! At the end of June I finished school for the summer - this means that I can hopefully get more sleep and recovery over the next couple of months which should allow me to train better.
Cera