Active Schools Surfing Program is a Huge Success
Active Schools Surf program goes from Strength to Strength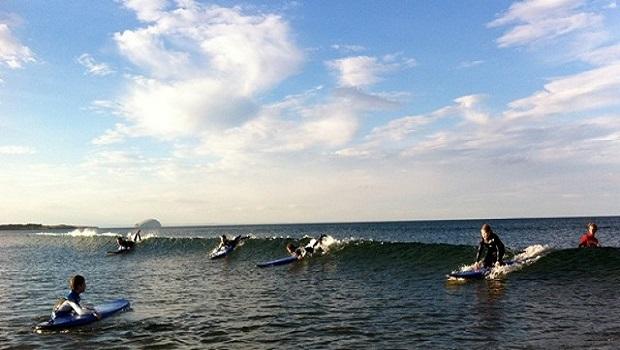 This year's active schools programme has been amazing with over 120 East Lothian Primary School children doing surf courses with Coast to Coast Surf School over both terms.
The autumn term has been brilliant, with lovely waves for our groups almost all the days and the weather has been unusually warm, we are still without boots enjoying the warm sunshine at the start of October which is really unusual!
The surfing proved so popular this term that Active Schools had to put on two more classes to accommodate the waiting list. Even with two new classes some children who still didn't get a chance to participate. Surfing is part of the Total Adventure program Active Schools Runs throughout the year.
Sam from Coast to Coast Surf School "We have seen children from many age groups, p4 to p7 and many talented local surfers come through this year. We have also seen a much bigger participation in children coming down with parents outside our lessons at Belhaven which is really great for the future progression of our junior surfers! In 2015 we will be launching a junior development squad to train the most advanced, and as part of this will host regular surf comps, so juniors can progress a lot locally if they want. We will also be looking at creating a surf lifesaving club to educate the public and parents alike about safety in the water too as both come hand in hand, plus lots more exciting things in 2015.
For those that have enjoyed our courses this year there are still a few spaces in the October holidays 2014 and we hope to see you all next year. Details www.c2csurfschool.com
Active Schools would like to thank coast to coast surf school. Without their continued support of Active Schools we would not be give every school the opportunity in East Lothian to participate in Surfing lessons.
If you would like to know more about the Total Adventure program please click on the link below
If you have any questions about Active Schools in your area please click on the link below.