Active Schools Total Adventure Programme Keeps On Growing
Foxlakes Adventure service knocks it out the park again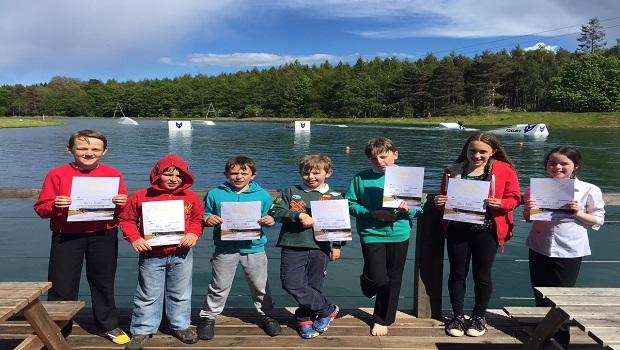 Active Schools yet again linked up with Foxlakes Adventure to provide children the opportunity to access wakeboarding. This also was the first term that Active Schools brought in online payment for the total adventure programme. The online payment proved to be a massive success that all the class filled up in 3 days with more schools involved than ever before.
Due to demand being so high foxlakes were gracious enough to offer another session ona Thursday evening which was filled up. In total 40 P4-P7 children from across East Lothian primary schools took part in wakeboarding which is the most children that have ever participated in Active Schools Wakeboarding programme.
The children were at the lake for 4 x 2 hours sessions and many of the children went onto achieve a cutting edge certificate during these sessions, as you can see from the photo above.
Foxlake now have a "Wake Academy that the children, who have come through Active Schools, can continue into and progress their wakeboarding skills with the hope they will continue to progress along the development chain. If you would like to know more about the "Wake Academy" please click on the link below and this will take you to foxlakes adventure website for Full details.
To know more about the Active Schools Total Adventure Program click on link below to contact an Active Schools Coordinator