Dunbar Grammar Girls win Volunteer of the Month Award
Blyth Hardy and Dionne McNeill from Dunbar Grammar are this November's Voluteers of the Month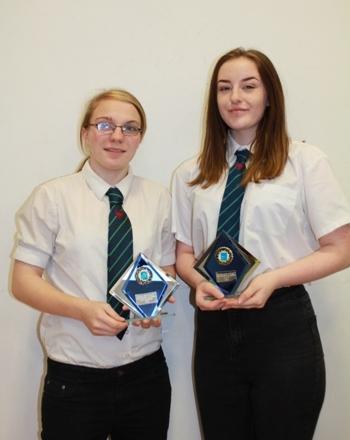 Two pupils from Dunbar Grammar are this months Volunteer of the Month Award winners for their incredible efforts in getting other girls in their school to get invovled in football.
The girls (in 4th and 6th years respectively) both represented the Dunbar girls football team in the East Lothian Youth Games when they were in S1 and S2. With no girls team in the school at the time except for at youth games, the girls were resoundingly beaten.
Rather than just accept that the school has no Football Squad, this experience motivated Blyth and Dionne to start a consistent female football team in the school in order to provide young girls in the school with a better footballing experience than they would have had otherwise.
Since meeting with their Active Schools Coordinator, Calum Taylor, at the start of the year they have been tenacious in their efforts - recruiting help and input form 2 teachers within the school. They have also completed a football coaching course so they are now qualified to lead the high quality football sessions, as well as running a weekly girls football session. To date they have lead the girls in a game against PL and entered 2 teams into the recent East Lothian Schools Futsal (indoor football) competition with 14 participants from S1 and S2. On top of this they have even held meetings, gaining support and chased up younger pupils by going round classes in their free periods.
Active Schools Coordinator for Dunbar Grammar School, Callum Taylor said "Without the girls incredible commitment to school football, we would not be at the level we are at. Only a few years ago there was no girls football in Dunbar Grammer and now because of the girls efforts other girls are now enjoying sport on a weekly basis. Myself and everyone at Dunbar Grammar School cannot tahnk the girls enough"
If this story has inspired you to get involved in Volunteering, then get in touch with your local Active Schools Cooridnator, or contact Adam Martin on 07976378469 or email amartin@elcschool.org.uk