Dunbar United Colts Step in and Help Dunbar Primary
Dunbar United Colts supply two goals after wind damages 2 goal posts at School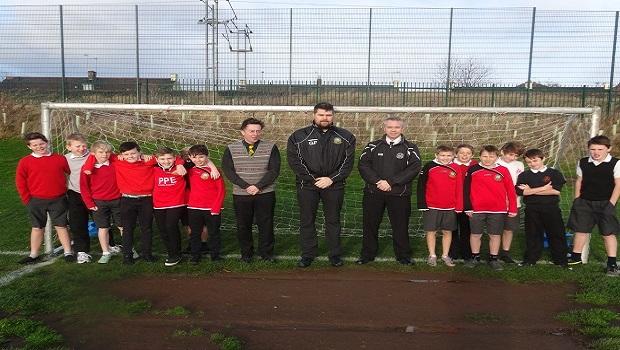 The weather can play a big factor in sport as Dunbar Primary found out when two of their goals were destroyed in the high winds and could no longer be used. This proved to be a problem as the school used the goals for break time, games lessons, training and matches.
However Dunbar United Colts stepped up and donated two sets of goal posts for the school. The School and club have a great link with each other. Thanks to this link Dunbar United Colts stepped in and saved the day. So football will be available all the time for students at Dunbar Primary.
In the picture above you can see Dunbar United Colts players with Chairman Gary Fairbairn and Child Protection Officer David Black presenting the goals to Dunbar Primary Deputy Head Mr Mackenzie.
David Black of Dunbar Colts "A firm relationship between schools and sports clubs is a great way to encourage children to continue playing sport after school and can also create a vital pathway toward competitive and even elite sport. For children to increase their activity via sports clubs it's important that they are offered free use of facilities through schools from an early age. When Dunbar United Colts Football Club invested in new 7-a-side goals they were only too happy to donate a set of their old goals to Dunbar Primary School Lochend Campus. Increasing a child's participation in football is key to their development as a player, whether it be for career ambitions, fitness or just for fun."
Gareth Hill Active Schools Coordinator "For the colts to step in and help the school out during their time of need just shows how strong the school club link is between the two. It is a remarkably kind gesture from the colts and one the school hugely appreciates. This means football can continue to grow because the children have full access again to the proper equipment"
If you would like to know about Dunbar United Colts and what teams they offer go onto the club homepage http://www.dunbarcolts.co.uk/
If you wish to know more about Active Schools in Dunbar please click on the link and this will take to you to Active Schools Coordinator Gareth Hill http://www.activeeastlothian.co.uk/clubs/dunbar-active-schools-primary-235