Team United
Working in Partnership for Young People with Autism in East Lothian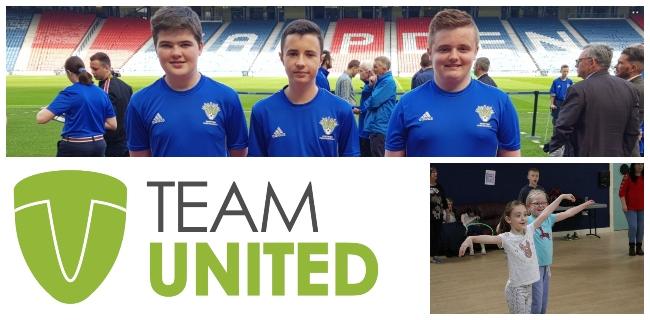 East Lothian Council's Active Business Unit has been working in partnership with Team United to provide more sport and physical activity opportunities for children and young people in East Lothian with Autism.
Team United is a charity who aims to support young people with Autism overcome social barriers they often face when taking part in sport and physical activity, particularly team sports. They focus on supporting young people aged 8-16 years with Autism but not exclusively, offering a range of sports and physical activities from Football and Athletics to Dance.
To date Team United's Football programme has been a massive success offering young people the opportunity to take part in a player pathway that offers a number of components and opportunities such as weekly active sessions, an awards scheme and social activities and outings. Their approach enables young people the opportunity to gain confidence, connect with their team mates and celebrate their achievements in a supported environment.
To celebrate #AutismAwareness day, East Lothian Council in partnership with Team United is delighted to announce the launch of the first ever Autism Football League.
In East Lothian, we have 30 players from the age of 10 to 16years who will play in the new league which we hope will start in October. This will give young people with Autism a pathway that they have never had before, providing the opportunity to compete at a local and national level.
Working and connecting locally is important, so thank you to Musselburgh Young Stars, Dunbar United and Hibernian Community Foundation who will field a team or two in the new league.
For young people who do not want to play in the Autism League or are maybe too young to take part, they can become involved in many other ways. Use their unique talents to be part of the league, support their team mates and start their own journey.
Team United will provide new opportunities to break down social barriers and help them transition and be involved at a level and pace they are comfortable. Some of the key roles and tasks for young people and the new league will include:
Fixture Co-ordinator
Pitch Co-ordinator
Assistant coach for teams
Kit person
Match day host
Social media co-ordinator
League secretary
Time keeper
Competition organiser
Transport secretary
It is an exciting time in East Lothian and we would encourage anyone interested in Autism related sport or physical activities to get in contact with your local Active School Coordinator or Club & Community Sports Development Officer or Team United directly.
Coronavirus / COVID-19 Info:
During the lockdown and while social distancing is in place, Team United have also been setting weekly challenges and skill sessions to keep children and young people active. To find out more please contact Team United directly. admin@teamunited.org.uk