Tranent Martial Artist Conquers Active Schools...and now the World!
This is the incredible story of Tranent\'s very own Faith Harvey. Muay Thai World Champion after only 18 months in the sport.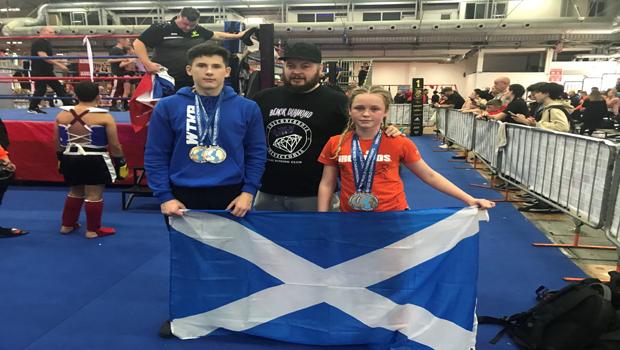 Just 18 months ago, Faith Harvey stepped in to the sport of Muay Thai, after singing up to the Active Schools free class on the activity timetable, based at the Bronx Boxing Gym in Tranent. Incredibly, she is now ranked Number 1 in the UK in her Weight Category!!
After the 8 week Free Active Schools block had finished, all of the participants were provided with the information about how to join the Black Diamond Thai Boxing Club who had been running the sessions on a Voluntary basis. Faith joined permanently and has never looked back since.
She enjoys the sport so much, she is now training five or six times per week, and even having extra training sessions before the classes begin.
Faith's coach, Scott Hendry (who also leads the Active Schools Sessions) said of the talented youngster;
"Just 4 months after starting out with Active Schools, Faith had her first in the summer of 2017. We took on the fight with just 48 hours notice and she won within 30 seconds of the 1st round. Since then she has become stronger and more confident, but still very humble inside and outside the ring. She's a true inspiration to the next generation of Black Diamond juniors and something of a local hero around Tranent."
Faith's most recent achievement in her short, but remarkably successful career was to come back from Italy with the WTKA Unified World Titles for Muay Thai and K1. Already, only 18 months after starting training, she is ranked No. 1 in Britain at her weight category..
Other Major Achievements:
YOKKAO Scottish Junior Champion
YOKKAO Intercontinental K1 Champion
WTKA British Champion
WTKA Celtic Nations Champion
WTKA World Muay Thai Champion
WTKA World K1 Champion
TANKO National Junior Champion
Her victories in the Unified World Championships increased an already considerable profile in the world of Muay Thai and also saw what is probably the best victory of Faith's career when she defeated the very talented Alisha Moore from the Bad Company Gym who has been training for several years. The most difficult contest Faith has had was also against another Bad Company junior - Alayia Long in the Summer of 2018 for the ISKA European title which Faith lost on points. She put in a strong performance and there was not a great deal of difference between the two fighters in the end with Alayia winning via points decision.
Faith regularly discusses her ambitions in Muay Thai with myself who is confident that she will become a top professional fighter if she keeps on going the way she is going in to the future. For now, plans include going to Holland in 2019 to train and fight K1 and then hopefully head to Thailand for a training camp and possible fight in the summer of 2019.
Everyone at Active Schools wants to say a huge well done to Faith for all she has achieved and wish you all the best in the future!
Has Faith inspired you to take up Muay Thai, or another sport on the Active Schools Timetable? Contact your Active Schools Coordinator to find out more.