2019 Secondary School Golf Order of Merit
Final results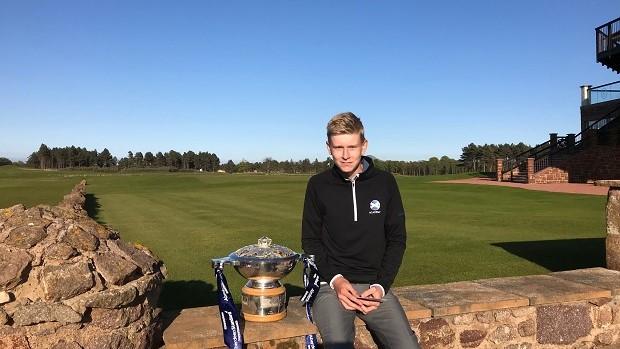 The final 2019 Secondary School Golf Order of Merit event was held at The Renaissance on Sunday 28th April. This was a fantastic opportunity for our young golfers to play the host course of the 2019 ASI Scottish Open.
CSS yesterday at The Renaissance was: 37 (boys) and 35 (girls)
Click here for the final 2019 Secondary Golf Order of Merit full results
Congratulations to Valdemar Hundeboll (North Berwick High School/North Berwick West Links) who is the winner of the Scratch Division of the Secondary School Golf Order of Merit with 475 points. Valdemar came 1st in the Scratch Division at The Renaissance with 37 points and he also got a HOLE IN ONE at the 11th! His name will now be appearing on the Hole in one board at The Renaissance which is an absolutely fantastic achievement.
Congratulations also to Adam Nichol (Ross High School/Haddington Golf Club) who is winner of the Handicap Division of the Secondary School Golf Order of Merit with 265 points. It was a battle to the end for the top spot in the Handicap Division but Adam's win yesterday at the Renaissance with 40 points beat Daryl Yuill (Preston Lodge High School/Craigielaw Golf Club) into 2nd place on points difference. Both boys are showing great commitment to their golf and attended all the order of merit events … ones to watch in the future!
Huge congratulations go to Ross High School who are the winners of the Secondary School Golf Order of Merit Team Division …. for the first time in history! The team is made up of Adam Nicol (Haddington GC), Rory Leishman (Haddington GC), Charlotte Bauld (Musselburgh GC) and Saul Walls (Royal Muss GC). Ross High School beat the current title holders Preston Lodge High School into a very close second place. This is a great example of a town/school that doesn't have a golf course but by building links to clubs nearby its possible to become golfers!
Finally it is with a bit of emotion (from me!) that we must now bid farewell to some of our golfers who are leaving school … Cameron Gallagher (PL), Jamie Gallagher (PL), Cameron Spencer (NBHS), Aaron Hall (PL), Finlay Mackenzie (NBHS) and Max Blair (PL).
I met all of these boys in primary school when they were around 9 years old and it's been an absolute pleasure working with them over the years and seeing them develop into established golfers with some representing both Scotland and the Lothian's. I'd like to thank you all for your commitment to golf and for making my job so enjoyable. I wish you all every success in the future and I hope you continue to play golf!
Final thanks to Mr Sellwood (Preston Lodge HS) who has supported with the starting and out on the course at every event including Sunday at Renaissance.